Brooklyn
Pick 'n Pay
Cherry Lane Centre
Brooklyn
My Darlings Pastisirie
Nicolson Street
Brooklyn
Information Centre
Brooklyn Mall
Brooklyn
Brooklyn Hospital
Olivier Street
Brooklyn
Celtisdal
Elno Art Gallery
Gouws & Ruimteweg
Celtisdal
centurion
Hokaai Slaghuis
Cnr Lenchen & Embarkment Road
Centurion
Bernina
Bazaruto Centre, South Street
Centurion
Clubview
Anja's Banting Shop
Clubview Centre
Clubview
Constantia Park
Constantia Park Market Gardens
Constantia Park Shopping Centre
Constantia Park
Cornwall Hill Estate
Plantland
Nellmapius Drive
Cornwall Hill Est
Die Hoewes
Woolworths
Jean Village Centre
Die Hoewes
Centurion Gimnastiek Akademie
West & South Streets
Die Hoewes
Blooming Gorgeous
Jean Village Centre
Die Hoewes
Die Wilgers
Superspar
Willow Way Shopping Centre
Die Wilgers
Pick 'n Pay
Willows Crossing
Die Wilgers
Karoo Café
Cnr Lynnwood and Albeth Str
Die Wilgers
Eastwood
Café 41
Eastwood Village
Eastwood
Eldoraigne
Fabulate Restaurant
Eldo Village
Eldoraigne
Equestria
Pick 'n Pay
The Grove
Equestria
Erasmuskloof
Castle Walk Flower Market
Castle Walk
Erasmuskloof
Big Als
Caslte Walk
Erasmuskloof
Erasmusrand
Café 41
Waterkloof Rand Centre
Erasmusrand
Faerie Glen
Teetuin
Cnr Atterbury & Olympus Drive
Faerie Glen
Spar
Old Farm Road
Faerie Glen
Slim Active
Old Farm Shopping Centre
Faerie Glen
Plantland
Atterbury & Olympusstr
Faerie Glen
Pick 'n Pay
Boardwalk Lakeside
Faerie Glen
Madisons Café
Atterbury Boulevard
Faerie Glen
Groenkloof
Isabella's Groenkloof
Unit Nub ,Groenkloof Forum
Groenkloof
Café 41
Groenkloof Shopping Centre
Groenkloof
Bella Vista Market Gardens
Groenkloof Plaza
Groenkloof
Hatfield
Papa's Real Food Restaurant
Duncan Yard
Hatfield
Hazeldean
Dopio Zero
Shop 42,Hazeldean Square
Hazeldean
Hazelwood
The Club
c/o Pinaster Ave & 18th Street
Hazelwood
23 On Hazelwood
Hazelwood Street
Hazelwood
Highveld
Superspar
Highveld Shopping Centre
Highveld
Birdies & Bogeys
Highveld Shopping Centre
Highveld
Irene
Southdowns
John Vorster & Karee Street
Irene
Karoo Cattle & Lamb
Irene Village Mall
Irene
Irene Dairy Farm Store
Nellmapius Drive
Irene
Lynnwood
Union Caterers
Lynnwood Road 840 Cura Avenue
Lynnwood
Lacoco Food Purveyros
InShere Lynnwood Village
Lynnwood
Dr Leather & Mr Hide
Lynnwood
Lynnwood
Lynnwood Glen
Tony's
Glen Gables Shopping Centre
Lynnwood Glen
Lynnwood Manor
Stephanies
Lynnwood Bridge
Lynnwood Manor
Spur
Glenfair Shopping Centre
Lynnwood Manor
Lynnwood Ridge
Safari Tuinsentrum
Lynnwood Road
Lynnwood Ridge
Pick 'n Pay
Lynnridge Mall
Lynnwood Ridge
Lyttelton Manor
Spar
Glover Avenue
Lyttleton Manor
Lyttelton Fresh Produce
Government Road
Lyttelton Manor
Life Equilibrium
Glover Avenue
Lyttelton Manor
Lyttleton
Fosette Endermologie Kliniek
Cnr Trichard & Kruger Streets
Lyttleton
Menlo Park
The Garden Shop
Greenlyn Village Centre
Menlo Park
Bourgeois Restaurant
Greenlyn Village Centre
Menlo Park
Menlyn
The Place
Menlyn Retail Park
Menlyn
Plantland
Atterbury & Generaal Louis Botha
Menlyn
OK Foods
Menlyn Retail Park
Menlyn
McCarthy Motor Group
McCarthy Lifestyle Centre
Menlyn
Bernina
Atterbury Boulevard
Menlyn
Montana Park
Westpack Lyfestyle
Kolonade Shopping Centre
Montana Park
Monument Park
Superspar
Mopani Centre
Monument Park
Corner Café
Monument Park Shopping Centre
Monument Park
Moreleta Park
Superspar
Moreleta Square
Moreleta Park
Planet Waves
Wiedrighstraat
Moreleta Park
Management Office
Parkview Centre
Moreleta Park
CE Mobility
Moreleta Park
Moreleta Park
Boma Slaghuis
Cnr Rubenstein & Garsfontein
Moreleta Park
Androulla's Home Cooking
Olivehood Shopping Centre,
Moreletapark
Murrayfield
Neo Wellness
Shop 6, Rubida Park
Murrayfield
Newlands
Superspar
Newlands Shopping Centre
Newlands
Pretoriuspark
Cappuccinos
Woodlands Boulevard
Pretoriuspark
Rooihuiskraal
Hirschs
Gateway Shopping Centre
Rooihuiskraal
Silverlakes
Story of our Lives Restaurant
Cnr Lynwood & Solomon Mahlanghu
Silverlakes
Hircsh's
Cnr Silverlakes & Graham Road
Silverlakes
Hazeldean Shopping Centre
Cnr Silverlakes & Lynnwood Road
Silverlakes
Corset SA
Silverlakes Golf Estate
Silverlakes
Six Fountain Estate
The Lakes Car Wash & Valet
Six Fountains Adventure Centre
Six Fountains Est
Food Lover's Market
Hans Strydom Drive & Bendeman Blvd
Six Fountain Estate
Swartkop
The Godfather
Biella Centre
Swartkop
The Reeds
Books 'n Beans
Blue Valley Mall
The Reeds
Valhalla
Valhalla Optometrist
Vindhella & Shirley Road
Valhalla
Waterkloof
Nerine Marx Optometrist
Clarke Street
Waterkloof
Love It Art Café
Waterkloof Height Heights Centre
Waterkloof
Amigo Restaurant
c/o Crown- & Mainstreet
Waterkloof
Wierdapark
Information Desk
Mall@Reds
Wierdapark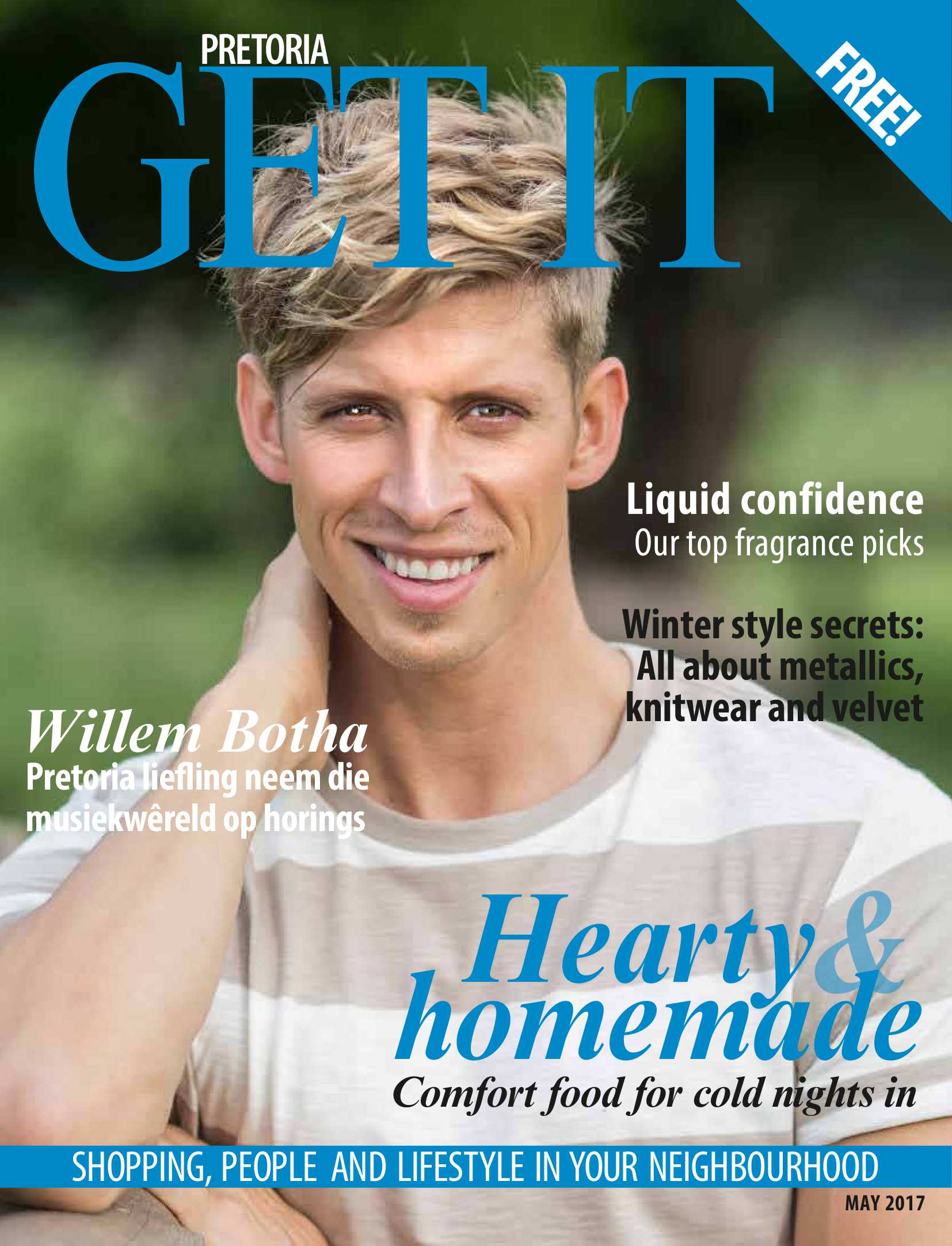 Interact with moms from a different kind this Mother's Day
One lucky reader can win an elephant interaction for four people at Adventures with Elephants, where they will get to learn more about these gentle giants in an educational and interactive way.
is a national brand of premium free magazines available in centres across the country.
to see other Get It magazines in the network.