Being mindful of stress
It is that time of the year when the December holidays are so close we can almost taste it, but before we can pack our bags and get out of the office, there are still a lot of things that need to be done.
Although we have been planning and anticipating the end of the year since, well, the beginning of the year, it still feels as if it has creeping up way faster than we anticipated. Sigh!
To effectively deal with stress we have to ask ourselves: why exactly are we stressed out?
"We tend to get overwhelmed by everything that still needs to be done because we are constantly focused on the future; we over-analyse, stress and worry about everything that still needs to be done, then anticipate the worst if it does not happen," explains Maryke Groenewald, transformation life coach at Life Purpose Coaching in Lydiana.
"On the other end, we look back and worry about the things we have not done yet, creating feelings of disempowerment, frustration and disappointment in ourselves. This is how we create stress in our minds," she adds.
The keyword here is "mind".  When you feel overwhelmed and stressed, it is usually because of stressful and worrying thoughts.
The negative thoughts create negative feelings and it always starts in the mind.
"Thus, if it starts in your mind with negative thoughts, it means it can be changed, because minds can be changed," Maryke says.
"Start there, change your thoughts and definitions about your situation, and you will create a different perception, which will in turn create different feelings."
To help get you through the last (and probably most stressful) stretch of the year, here are Maryke's tips to help you deal with stress in a more productive manner:
STAY FOCUSED ON THE PRESENT 
When it comes to dealing with stress, it is important to take a moment, breathe and be completely realistic.
What can be done NOW? Stop thinking about what should still be done, or what could have been done.
By stressing about what is still to come, you are only filling your mind with unnecessary anxiety.
Rather focus on the current issues or tasks at hand. You will even be able to complete them quicker and more time conducive than might you have thought.
PRIORITIZE
Yes, you knew there was some kind of list coming.
Start by making a list of what is absolute priority and set time aside to do the most important tasks first.
Make sure to give yourself deadlines for tasks, to hold yourself accountable.
Deadlines are not there to add stress to your schedule – it makes prioritising and time management easier.
FOCUSED ATTENTION
It's never a good idea to just randomly tackle tasks. When you have prioritised your to-do list, take focused action.
Stay out of your head and focus on one thing at a time and get things done.
Choose your words wisely. Since all stress starts in the mind, it's important to stop using phrases like "I am overwhelmed" , "I am stressed", "there is too much to do", "how will I get everything done", "there is not enough time" and "time is running out".
As previously mentioned, the idea is to stay focused and handle one task at a time so as to avoid anxiety.
SET INTENTIONS
Apart from your daily to-do-list it is key to set a daily 'intentions-list'.
Something like "today I'm going to be excited to complete A and B", "today I'm finally finalising C", "today I feel totally energised to complete all my tasks", "today I choose to see the positive in every situation" and "today I am confident and happy".
This will help set your mood for each day and reinforce positive thoughts.
DELEGATE
Sometimes you cannot do everything by yourself – and there is absolutely no shame in that.
If you feel that you will not be able to get to everything, delegate tasks to willing colleagues, friends or family. They will be more than willing to assist and help take the load off of you.
Take care of yourself. During stressful times, it is easy to forget about yourself. If you feel drained and tired, you will not be able to perform at your best.
Take some time to go for a massage, go for a walk, enjoy a picnic in the park, meditate, go dancing or do anything that will recharge and energise you for the last few weeks of the year.
PLAN AHEAD 
The new year might still seem months away, but start setting your 2019 goals now. You do not have to wait for the new year.
Think about what you would like to do differently in the next year and start planning towards it now.
"Remember, no situation or event has automatic meaning attached to it.
"One person might experience a situation as being a challenge and will get excited about it, while another can experience the same situation as daunting, overwhelming and get too demotivated to even start."
Your perceptions create your experience, change your perception and you will start changing your life.
"The end of the year does not have to be stressful; it is all about how you define it. The choice is yours," Maryke concludes.
To book a session with Maryke, visit www.lifepurposecoaching.co.za.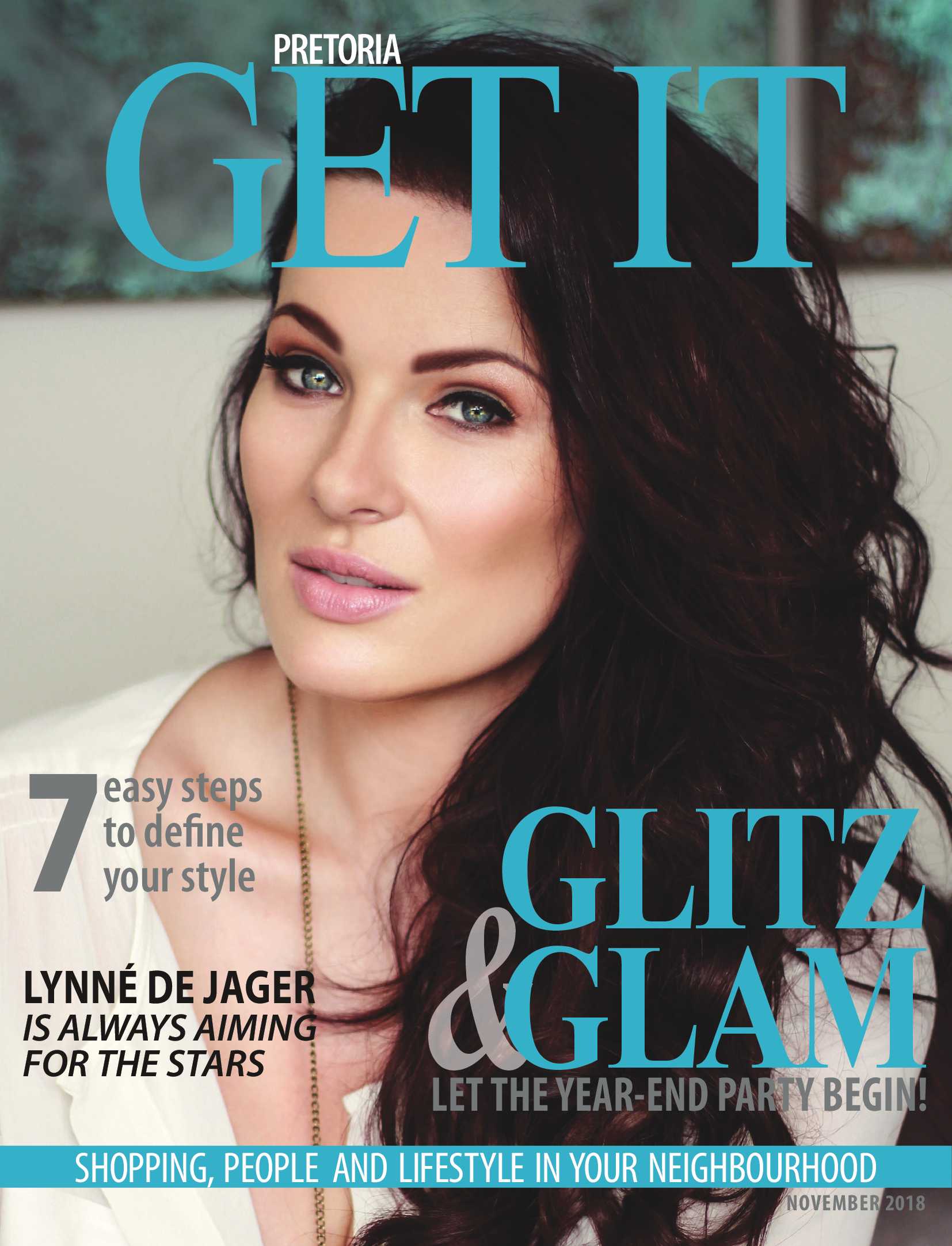 is a national brand of premium free magazines available in centres across the country.
to see other Get It magazines in the network.