Paradise awaits…
An avid traveller herself, the owner of Kaross Travel, Rolín Nel started her own travel agency because she wanted to offer travellers more tailor-made options – a boutique-approach, if you will. Introducing: 'craft travelling'.
"In a day and age where a world of consumer products are available to customers at the drop of a hat, the fact that a lot of things are mass-produced, generic and impersonal gave rise to the craft movement – the need for high quality, handmade, 'craft' products, such as craft beer and gin," Rolín explains.
Consumers are willing to pay an arm and a leg for a good craft gin or beer – even though it is more expensive than generic and commercial, produced products – just for the sake of it being 'proudly South African'.
"And when it comes to travelling to exotic and 'bucket-list' destinations, people are willing to – when tens of thousands of rands are at stake – settle for generic travel packages. It is here where the trend of 'craft travel' arose – the realisation that you can tailor your trip to the smallest of details," Rolín adds.
So, basically, craft travel means that the days of generic travel packages are numbered.
Travellers are no longer happy with a "one size fits all" approach to travelling and they don't have to be. There is so much on offer.
It's a start of a whole new movement as more and more avid travellers are starting to realise they don't have to settle for anything less than a travel solution that fits them like a glove.
IS IT MORE EXPENSIVE?
Craft travelling might sound very appealing, but is it more expensive?
"No. On the contrary, there is so much less wastage or disappointment because you can choose your experience down to the finest of details. If you go on generic, group-based trips, you are likely to be disillusioned because your budget and preferences have not been considered," Rolín says.
HOW MUCH PLANNING DOES IT TAKE?
As you can imagine, customising your travel plans to the T instead of settling for ordinary travel packages can be a bit more daunting and time consuming than usual.
"It does take a bit more planning, but it is só worth it in the end.
"But, you don't have to do anything – you can outsource the hard work to experts like us and it won't even cost extra. All you would need to do is take the time to tell us what your dream holiday would entail, and we'll make it happen," she says.
AS A TRAVEL EXPERT, WHAT IS SOME OF YOUR FAVOURITE CRAFT TRAVEL DESTINATIONS?
"Undoubtedly the northern lights in Norway, Svalbard between Norway and the North Pole and the Amalfi Coast in Italy. A personal favourite of mine will always be Mauritius – especially if I need to break away and relax.
"You can pick a right-fit destination here, at Kaross Travel, to the finest of details based on your likes and dislikes with regards to activities, food, and accommodation and what I like the most is that, here, you basically have to do nothing but eat, drink and relax," Rolín explains.
WHAT IS ONE OF THE MOST OUTRAGEOUS CRAFT TRAVEL REQUESTS YOU HAVE EVER GOTTEN?
"A client once paid over R80 000 per person for a week's stay at a hotel in South America, but did not like the colour of the curtains and checked out.
"Fortunately, I had a list of other hotels that was able to cater to their preferences," Rolín laughs.
WHAT ARE SOME KEY THINGS TO KEEP IN MIND WHEN PLANNING YOUR NEXT HOLIDAY?
– Comfortable shoes. Please do not purchase new shoes as it's not as comfortable as old ones.
– Layers of clothes. When planning your holiday, please keep in mind the weather changes/season of your destination.
– Invest in a good quality travel wallet so that all your documents are at hand when you need it.
– Invest in good quality, durable luggage with swivel wheels.
– Never travel without travel insurance. People think they don't need it, but what if your suitcase gets lost or you have an emergency and you can't go anymore?
Also consider the various medical costs overseas.
WHAT ARE SOME KEY QUESTIONS YOU SHOULD ALWAYS ASK YOUR TRAVEL AGENT?
– Budget is the most important. Give a clear budget. Regularly ask your travel agent, "How are we doing in terms of budget?"
– Have you rechecked my flights?
– Have there been any time changes?
– Were there any package or policy changes in the country?
MORE ABOUT ROLíN AND KAROSS TRAVEL
The Clubview resident's love of travel runs deep and she's a bit of a jet-setter herself.
But few people know that she actually worked as a forensic investigator and later, in sales in the building, construction and motor industry before making the switch to working as a travel consultant.
She started Kaross Travel in 2014 and has built her business into one of the leading travel agencies in the country.
"On a professional level, I just love the fact that I can make people's travel dreams come true on a daily basis. I also love paying attention to detail and doing little things for people that make their experiences extra special.
"When you plan a trip, it is the finer details that make or break the experience," she says.
"Personally, the reason I love travelling myself, is the opportunity to find destinations with lots of peace and quiet – where it is absolutely quiet, where I have to do nothing but relax, and where the stars are big and clearly visible," she adds.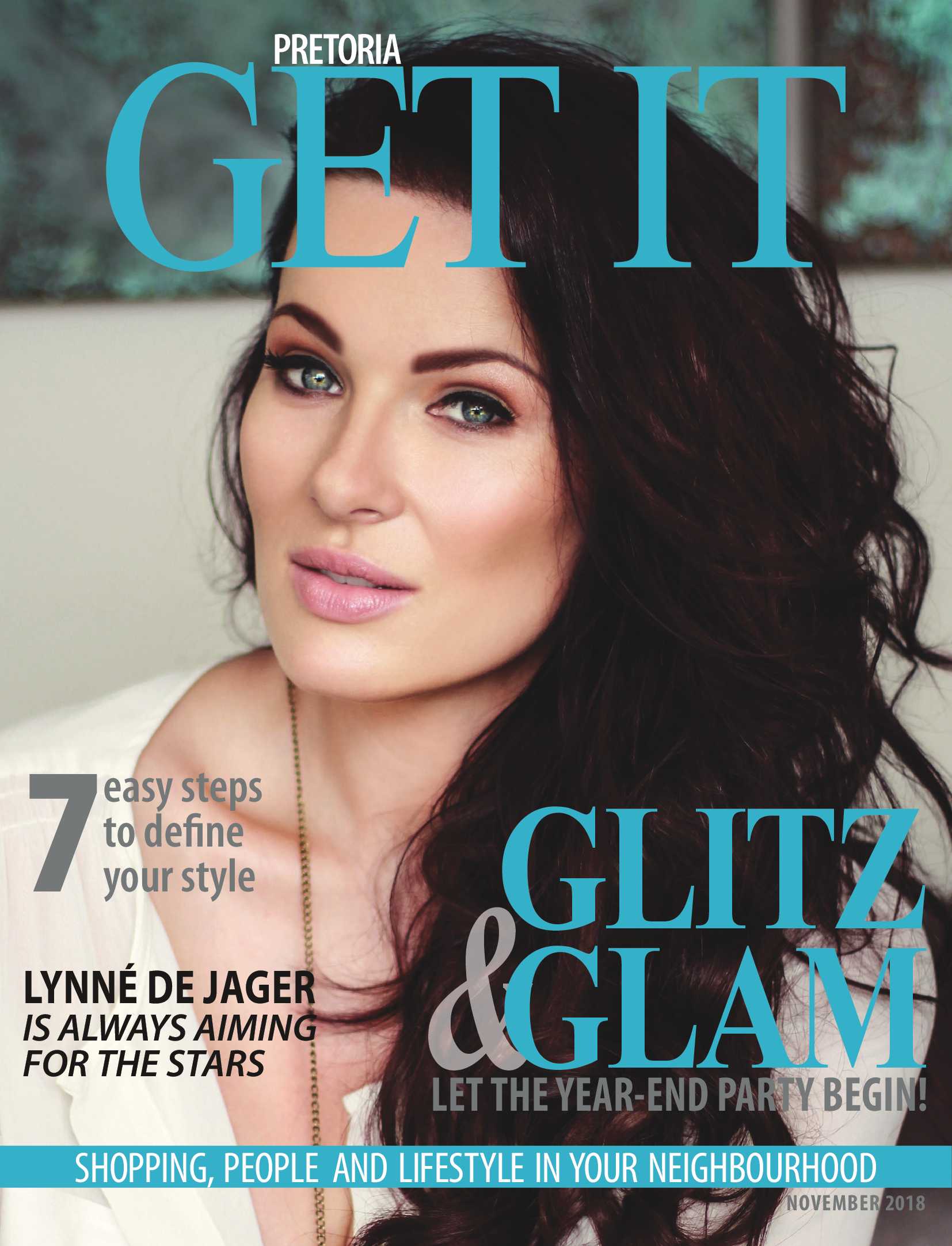 is a national brand of premium free magazines available in centres across the country.
to see other Get It magazines in the network.