Celebrating the ladies
Vicky Denyschen
Company name: Menlyn Maine Investment Holdings
She's worked in the property industry for the past 25 years and has managed everything from small convenience centres, super-regional centres to a national retail portfolio. Vicky Denyschen loves being part of innovative projects and Menlyn Maine is her favourite project thus far.
"I have the privilege of being part of the most exciting development in Pretoria; the visionary, cosmopolitan urban precinct integrating offices, retail, healthcare, entertainment and residential components," she says.
When Vicky is not working, she is wife to Andrew and mom to Caela and Kyle. Oh, and she also has a particular love of boots … something she can't live without. "Retail therapy gives me immense satisfaction and is the reason I love my job, although my wallet wouldn't agree!" she shares.
Keeping balance between work and her personal life can be tough, but it can definitely be done. "I love what I do, but I know how to cut off from work when I get home so I can focus on my home, family, friends and hobbies," Vicky explains.
Any advice to other women trying to make it in the corporate world? "Do what you love then everything else will come naturally," she says.
To get in touch with Vicky, send an email to vicky@menlynmaine.co.za or call 012 361 7758.
Sonja Smith
Company name: Sonja Smith Funeral Group (Pty) Ltd
Being part of the death care industry for the past 12 years, Sonja Smith and her team are there to help and guide when a loved one passes on.
"We take care of your loved ones when the time comes for a final goodbye," says the grandmother of three. "I guess you could call me a 'Glam-Ma' … a glamorous woman with grandchildren who is too young and fabulous to be called grandma!" Sonja says tongue in cheek.
Her passion comes from the urge to make a difference in the lives of her fellow human beings. In the business world, she is a regular speaker at conferences and seminars on entrepreneurship, death, loss and more. She is also the chairperson of the Centurion Hospice and director of a boutique retirement centre.
The quote she lives by?
Stephen Grellet said: "I shall pass through this world but once. Any good therefore that I can do or any kindness that I can show to any human being, let me do it now. Let me not defer or neglect it, for I shall not pass this way again."
To Sonja, her job is more of a calling than a nine-to-five. "I am on call 24/7 for someone who needs me and I know I'm making a substantial difference. This is the sacrifice my family has to bear."
To get in touch with Sonja call 012 654 9902 or send an email to info@ssfg.co.za or visit the website for the contact details of a office near you.  Details: sonjasmith-funerals.co.za
Mart-Marie Fourie
Company name: Milk and Honey

The woman at the helm of the retail fashion empire Milk and Honey is Mart-Marie Fourie. "We've been operating for four years now and the name was inspired by the abundant 'land of milk and honey' as in Deuteronomy 26:9: 'And He brought us to this place and gave us this land, a land flowing with milk and honey'," she explains.
But to her, it's more than a business.
"To me, Milk and Honey is an abundant space where we don't just bring women a unique product of local and Italian imported garments; we bring them an experience, a place where we inspire you to be the best version of yourself!"
For her and her team it's all about passion and service.
Looking at the exquisite fashion, it's almost difficult to believe that Mart-Marie actually comes from a background in auditing. She started the business in her final year while doing her articles at Deloitte.
Her first store was in Brooklyn Mall and was called Marilyns. Business boomed and she soon opened another store in a different shopping centre. Soon after, Milk and Honey was born.
Today the married mom of two has stores in Southdowns shopping centre, Menlyn Maine and Irene Village.
To get in touch with Mart-Marie call 012 346 3733. Details: milkandhoneysa.com
Isabel Jacobs
Company name: Isabel Jacobs Properties (IJP)
"I love the ever-changing challenges of the real estate market and my ability to understand the needs of my clients sets me apart from my competitors," says Isabel Jacobs of Isabel Jacobs Properties (IJP).
Isabel has a masters degree in social work and has been a master practitioner real estate for the past seven years.
She specialises in residential and commercial sales and rentals, as well as new developments. The satisfaction she sees on people's faces when moving into their very own home is what drives her.
"Peace of mind … that is what my clients deserve," Isabel explains her passion.
How does she do it all? "Effective planning. And getting up very early in the morning." To other women entrepreneurs, she has a few words of wisdom. "Take each opportunity life offers you and make the most of it," she says.
When she's not working, she prefers spending time with her family and close friends.
She still wants to visit Positano, the jewel of the Amalfi Coast in Italy, but in the meantime spends her holidays in Ballito Bay with a glass of wine in hand.
To get in touch with Isabel call 012 346 0449. Details: www.isabeljacobsproperties.co.za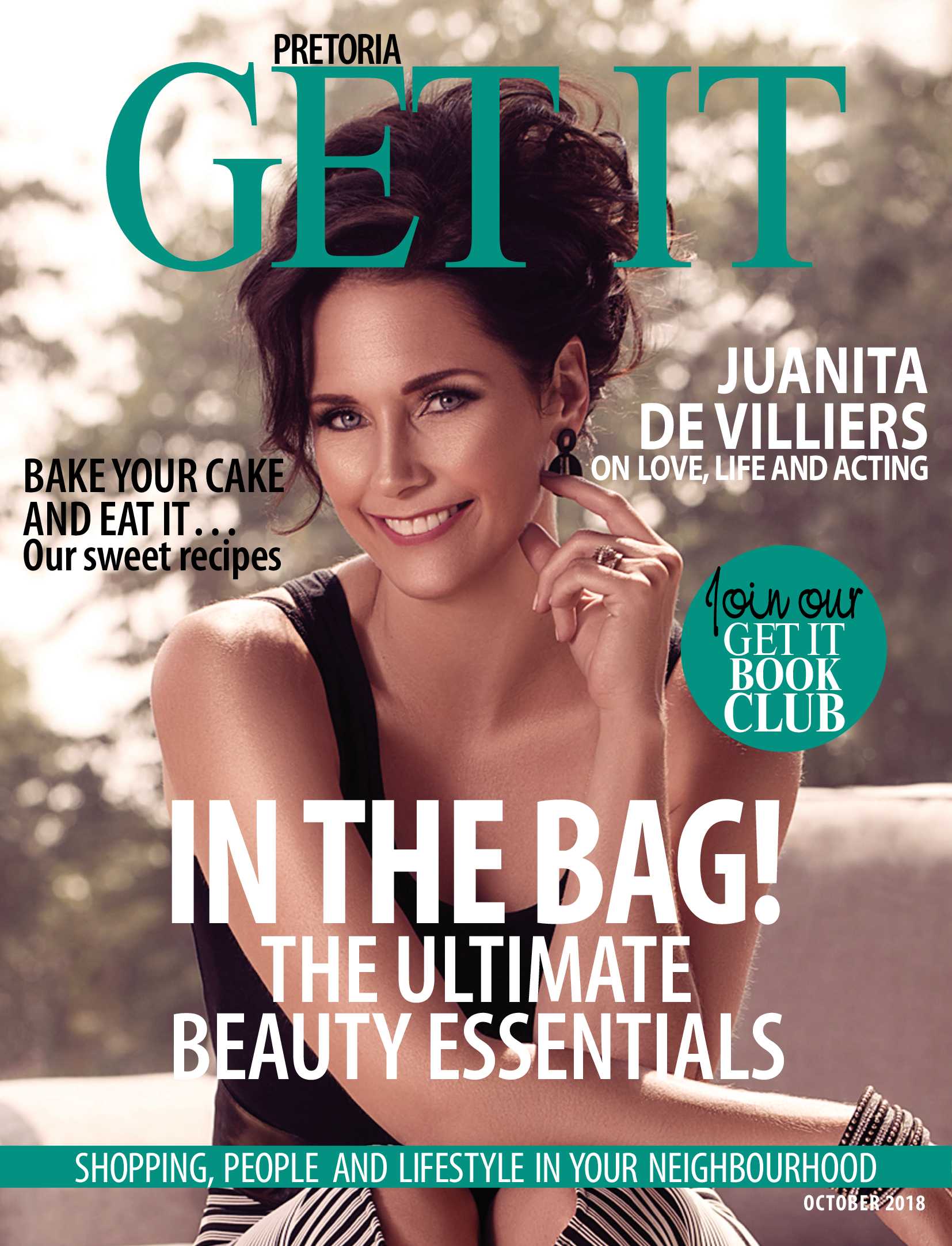 October Spoil
Welcome summer with an extraordinary rosé.
is a national brand of premium free magazines available in centres across the country.
to see other Get It magazines in the network.