A passion for helping others
What made you decide to enter Tammy Taylor Mrs South Africa?
One of my goals is to start with my lifelong 2020 dream to have a fully funded and self-sustained Equine Therapy Rehabilitation centre differently abled individuals, women, children, elderly people and animals. To be a #TrueAmbassadorOfHope.
The dream is to call the centre "Pay-it-Forward".
As an Industrial Psychologist my passion is to make a true difference in other people's lives. And if I win I will continue to do just that.
How did your journey lead you to entering Tammy Taylor Mrs South Africa?
Honestly, I stumbled across a success story of a previous Mrs SA winner this year in January while searching for a success story about a women. She shared why she entered Mrs South Africa. After reading her story I realise that there is sooooo much more to Tammy Taylor Mrs South Africa. I realised this is it, it is something that is TOTALLY outside my comfort zone (knowing that our biggest growth happens there). I spoke to my husband and he fully supported me to enter, and I then entered.
Why would you like to be crowned as the next Tammy Taylor Mrs South Africa?
Be a true ambassador of hope! To put attention not on me, but attention to what I want to accomplish. To enable people and save animals! Own a "horse/elderly-home care farm", become an equine therapist, get enough funding to (a) help the differently abled, underprivileged (homeless), elderly people (and animals), (b) build women and children up suffering from stress, anxiety, burnout, broken relationships, low self-confidence (and many more). Help them to grow into the person they were ought to be and pay-it-forward, so that we as humans can make our beautiful planet ultimately a better place.
I know it might sound like a typical cliché, but I know this is truly who I am and what I want to accomplish!
What is the heart behind this pageant?
To be yourself! It is about enabling you to be the BEST version of yourself, to get out of your comfort zone and grow. This is exactly what I have been doing for so many people, being an Industrial Psychologist, and coach.
What do you hope to achieve with the title if you win?
From an early age I participated in charity events and had this urge to enable and empower people – Tammy Taylor Mrs South Africa will provide me with a solid foundation to get the right exposure and everlasting experience.
The title will also allow me to build an amazing network to positively impact, inspire and motivate others and as SA women we can stand strong and together pay-it-forward!
To extend the work I have already been doing so that I can continue with my live long commitment to not only service other people, but to be their voice and to take responsibility for those who can't.
Tell us more about yourself?
As a 34-year-old from Centurion, married to Heinrich Pretorius, I see myself like every other woman with "boundaryless" dreams and aspirations. I am hardworking and wants to make a difference in other people's life. I am an entrepreneur, wife, friend, godmother, Industrial Psychologist, squash player and jogger.
I am also the founder of findingsolutions.co.za, a proud partner in www.mymindset.co.za an online coaching course and a partner in www.beyond360.net.zaa program that focuses on schools.
What is your personal take on fame and fortune?
For me…" people don't care how much you know and who you know until they know how much you care", therefore you can have fame and fortune, but it depends on what you do with it.
How do you unwind?
I play squash, jog or spend time with my family and two four-legged children. I teach people how to journal, something I also do to reflect and to unwind. John Dewey said: "we do not learn from experience, we learn from reflecting on experience".
How would your best friend describe you to a complete stranger?
"I am proud to say that Carla Pretorius is my Bestie and I thank God for her in my life. Her benevolence is high as she always does what is best for those around her and even those not close to her. She listens carefully to the hearts of people. Everything she does, she does with dedication. Her skill to arrange is brilliant! Her talent to contextualise and to remember things makes people around her feel noticed and loved. She has a gentle way to communicate even if the message is meant to challenge you to improve. Every she touches people's lives, she makes a positive impact and therefore people don't easily forget her. Our world needs more people like her!"
 What motivates you to keep on keeping on in tough times?
I think being an Industrial Psychologist I have learnt how to be resilient and to have a growth-mindset. And of course I absolutely believe in journaling – it's something I teach the people I coach too. There are so many benefits in journaling!
Who inspires you and why?
For now, it must be Sarah-Kate Scott. She is a remarkable women, someone that is tough, inspirational, authentic and true to herself.
She pushes you to cross boundaries that you didn't think was possible.
What is your top fashion/beauty/fitness tip?
Self-confidence…nothing beats self-confidence, then comes fashion, beauty and fitness. I am an absolute fitness/health person.
Fashion…dress according to your body shape, it makes an ENORMOUS difference and buy from Contempo, great clothes, excellent quality!
Then comes your eyebrows…I never thought that this will make such a dramatic difference, but the Brow Bar taught me different.
Contouring by using Catrice make-up, it is also very affordable and easy to apply.
Get superior quality nails, do not look further than Tammy Taylor Nails South Africa (this comes from me, and I'm not a nails person).
My fitness tip – always exercise, tell your brain you are exercising whether you play with your dogs, children, drive in the car, making dinner.
Do squads while in the kitchen, do crushes while blowing your hair…make it fun and play great upbeat music!
What is your favourite spa/coffee shop/tea garden in Pretoria if you want to treat yourself and a friend to something sweet?
That one is easy…Stephnie's Restaurant at Lynnwood Bridge.
Are you involved in any charities?
Yes, Irene Homes and in our Church Community.
I recently held a women's event at the Atterbury Theatre where we raised funds for Irene Homes. Here are some of photos.
This video perfectly sums up event.
What philosophy do you live by?
Things happen FOR us and not TO us.
What legacy do you hope to leave behind?
PAY-IT-FORWARD.
 Tell us something surprising about yourself that not many people know?
My twin sister and I were not supposed to be born – we were not planned. My Mom and Dad had my eldest and second eldest sister and then…after a year and few months…there we were…Surprise!
Do you have any special talents that not many people know about?
I can sing, specifically Opera music.
Where and how can people follow your journey (websites/social media) and how exactly can they vote for you?
They can follow me on  my public Facebook page @CarlaPretoriusSA, on Instagram @CarlaPretorius1984 or Twitter @CarlaPretoriu13.
To vote for me please like the Mrs South Africa Facebook page and like my (Carla Pretorius) photo by clicking on the link for my photo to open https://goo.gl/dQLH3n before 28 June and/or sms Carla Pretorius to 35959 (R3/SMS)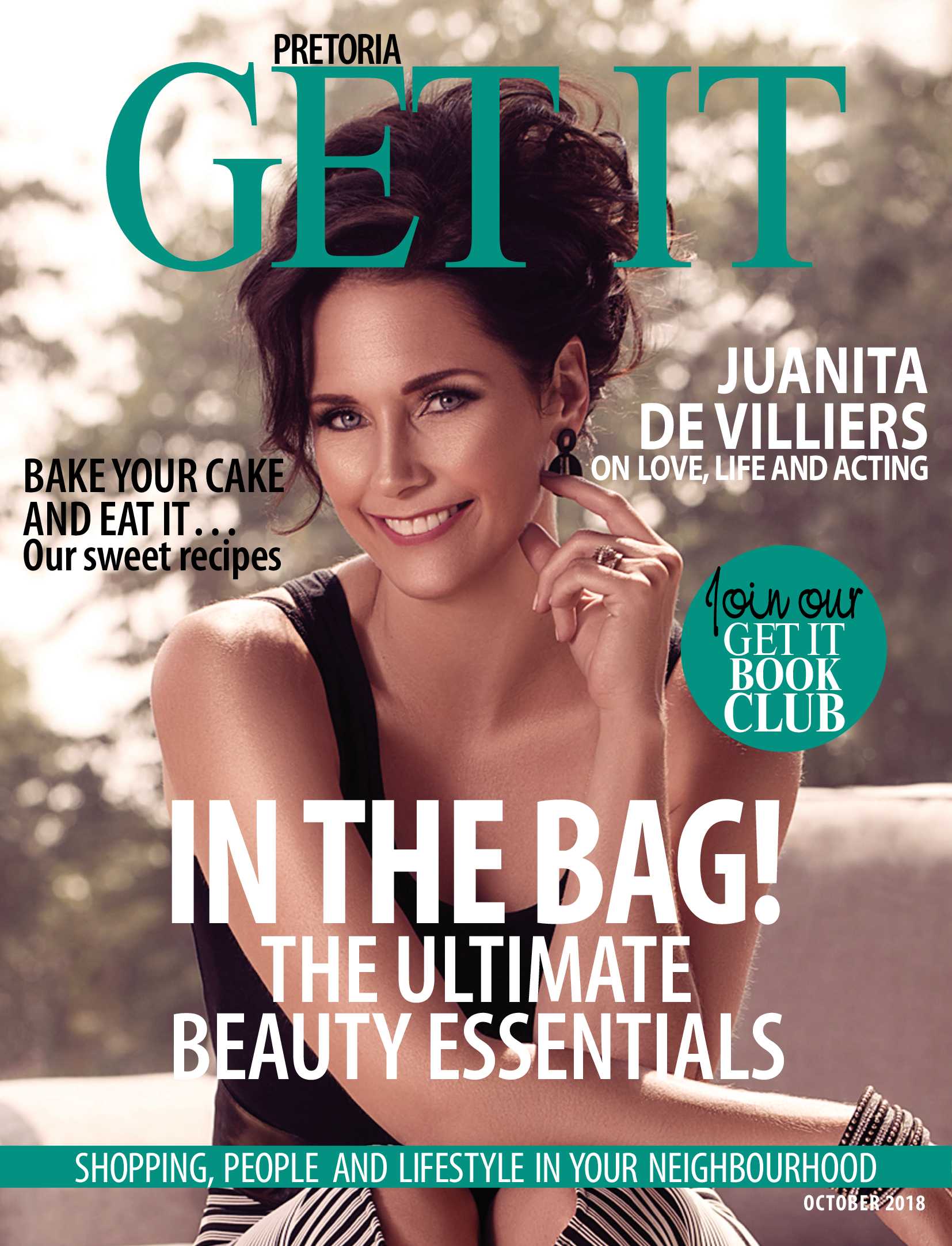 October Spoil
Welcome summer with an extraordinary rosé.
is a national brand of premium free magazines available in centres across the country.
to see other Get It magazines in the network.