The Imaginaeries of Faerie Glen
Ever wondered if fairies are real? Well, they might just be. And what's more they live right here in our very own Faerie Glen Nature Reserve.
Pretoria-based children author, Ginny Stone is known for her series of eccentric children books but her latest, The Imaginaeries of Faerie Glen is set in the nature reserve.
We are obviously intrigued… fairies are so magical!
We sat down with Ginny to find out more about her, the book and her own believe in the winged creates.
When did you first realise that you wanted to be a writer?
In high school – my English teacher was inspirational; he always used to throw a weird and wacky topic into his essay line-up especially for me.
I really love writing. Of course half the time I get sidetracked and never get around to writing anything, but each day I start out with good intentions.
Do you remember the first story you ever wrote, what was it about?
Indeed I do, it was called "Scuzzy the Scrap Yard Rat". It was about a meanie old lonesome skinny rat that lived in a scrap yard in Somerset West (where I lived at the time). He found a working digital clock in a broken old car and thought it was a cool TV. He refused to share it with any of the other rats. Of course, they stole it from him and in the end, it got broken and so nobody had it.
What is your favourite childhood book?
I have a few:
(1) Down the Long Hills a western by Louis L'Amour
(2) The Secret Garden by Frances Hodgson Burnet and anything written by Roald Dahl but I particularly loved his Revolting Rhymes.
What is your motto in life?
Make your own magic.
Describe what your ideal writing space looks like.
I just need a computer and my head. A couple of years ago, 3 x 20-something-year-old kids came back to live at home and my "office" moved to a corner of our bedroom. That's where The Imaginaeries was written.
I have an office assistant too, our rescue cat Jack. He drapes himself on my desk and has also been known to traipse across the keyboard and add sentences to my writing when I'm not looking.
Tell us about your writing process and the way you brainstorm story ideas.
With the Sibo Series (published by Lets Look Publishers – also based right here in Pretoria) it is quite easy because there is a sort of formula. I had a topic, researched it until I understood it myself then converted it into a child-friendly story with the facts woven into it.
With the Imaginaeries it was a bit different. It was the first book I had ever written where I did not have to adhere to any given facts. I could let my imagination run wild and add in ridiculous things.
I really enjoyed writing it – doubly so because my daughter and I would sit on our stoep, drink coffee and laugh as we plotted and planned and let our own imaginations run riot. I went the self-publishing route with the Imaginaeries.
I am also in the process of compiling nine years of blogs that I wrote as a weekly column in The Springs Advertiser in a series of books. It was called "A Dog's Blog" and was ostensibly written by Fudge, our SPCA rescue.
Do you believe in fairies?
Of course. I am quite sure we have some living in our lovely garden!
Tell us about your book The Imaginaeries of Faerie Glen, what inspired you to write it?
My lovely husband and I often go hiking in Faerie Glen and it really is a magical place. I started imagining a whole world that sneakily existed right under our noses. I drove him batty by stopping all the time to take photos of all the places where I imagined the faeries lurked. My 27-year-old daughter currently living with us has a fabulous imagination. Many of the whimsical ideas in the book were hers and I just put them into words. She also did the illustrations for the book.
What are you trying to achieve with it?
Firstly, I want children to read. Even better, to actually like reading. According to South Africa's reading statistic, approximately 78 percent of the children in grade 4 cannot read for meaning which I find horrifying and incredibly sad.
I want kids to use their imagination. Often these days things are served up on screens in digital format, brightly coloured images that leave absolutely nothing to the imagination. I used to see miserable kids trailing along behind their parents in Faerie Glen with glum faces and I wanted them to also start imagining fairies lurking in the bushes.
What makes your book different from all other books written of fairies?
Our book is uniquely South African. It's a modern-day fairy story. The characters in the book hail from all over the world. Some of our fairies have wing piercings and tattoos!
Also keep a lookout for the PESCOM features and rip off of ESCOM.
Granny Catty keeps her catnip in a Simba Chips packet (but you have to read the story to see why that is funny). Grab-a-Spot hooligan taxis are reminiscent of our taxi industry.
Our fairies are environmentally-friendly. They hate it when humans litter although they recycle some of the junk into their everyday lives.
Of course, because I have been involved in the science centre industry for many years I had to bring in a bit of that too, Professor Grumpy Pants does science shows and Gogo Gaia (the leader of the Glen) has a favourite Rastafarian who can read the stars. This book is not only for children, it is for anybody who enjoys a bit of fantasy.
Who is your favourite author?
I have many favourites. Bryce Courtney is my all-time favourite, sadly he has passed away now so there will be no more new books. Marian Keys, Deon Meyer and Douglas Kennedy rank high on my list too.
Do you read your book reviews? How do you deal with bad and good ones?
Naturally, I read my book reviews. I honestly don't think I've ever had a bad one. Although Dr Mosibudi Mangena (former Minister of the Department of Science and Technology) once wobbled his finger and sort of scolded at me at a conference because my first book on the topic of global warming was causing problems in his home.
His grand-daughter had read Sibo Makes a Difference and was complaining that her grandmother left the fridge door open. I loved that. It meant that the message of the book worked.
I've also had parents yell at me that their kids have gone and dug up their gardens to make veggie patches after reading Sibo and the Veggie Bed. I just smile at them, my job is done!
Whilst my books (Sibo Series) are being read in schools and libraries around South Africa, most kids don't write reviews but are very verbal. After reading Sibo Sizes Things Up at a school one day, a kid asked me if Chuck Norris could see nano, so cool. Meaning he totally got that book too! And I told him, of course, Chuck could.
What advice do you have for writers out there trying to make it in the industry?
If you want to write just do it. Don't make excuses. Yes, you are going to write crud sometimes but that's how one learns. Read a lot too, it really helps and do not think that if you get a book published (or publish one yourself) you have made it, mostly you are just a blip on the radar.
More about Ginny:
Book your currently reading?
I picked up Ella by Uri Geller at the Irene Homes Annual Garden Fete on the 1st of May and also just downloaded Ashes Swept by Julia J Simpson
Most used social media platform?
A toss-up between Facebook and Instagram.
When you do get the time to relax, what do you do?
Hike in Faerie Glen, gardening, fabric painting and currently in the process of mosaic-ing a big wall in our garden but best of all I love to read and write ridiculous Blogs from Above.
A small portion of the profits from the book sale is given to Friends of Faerie Glen Nature Reserve as a thank-you for enjoying such a fabulous place.
For more information about Ginny's fairies and her book visit the Imaginaeries Facebook page and her website. Books can be bought on her website or directly from her at R100 plus postage. Alternatively you can get your hands on an e-book from Amazon and Smashwords – these do not contain illustrations.
WIN:
We're giving away two copies of Ginny's book, The Imaginaeries of Faerie Glen.
To enter:
– Like our Facebook page.
– Fill out the entry form. The keyword is FAIRIES and the competition closes on Monday, 25 June.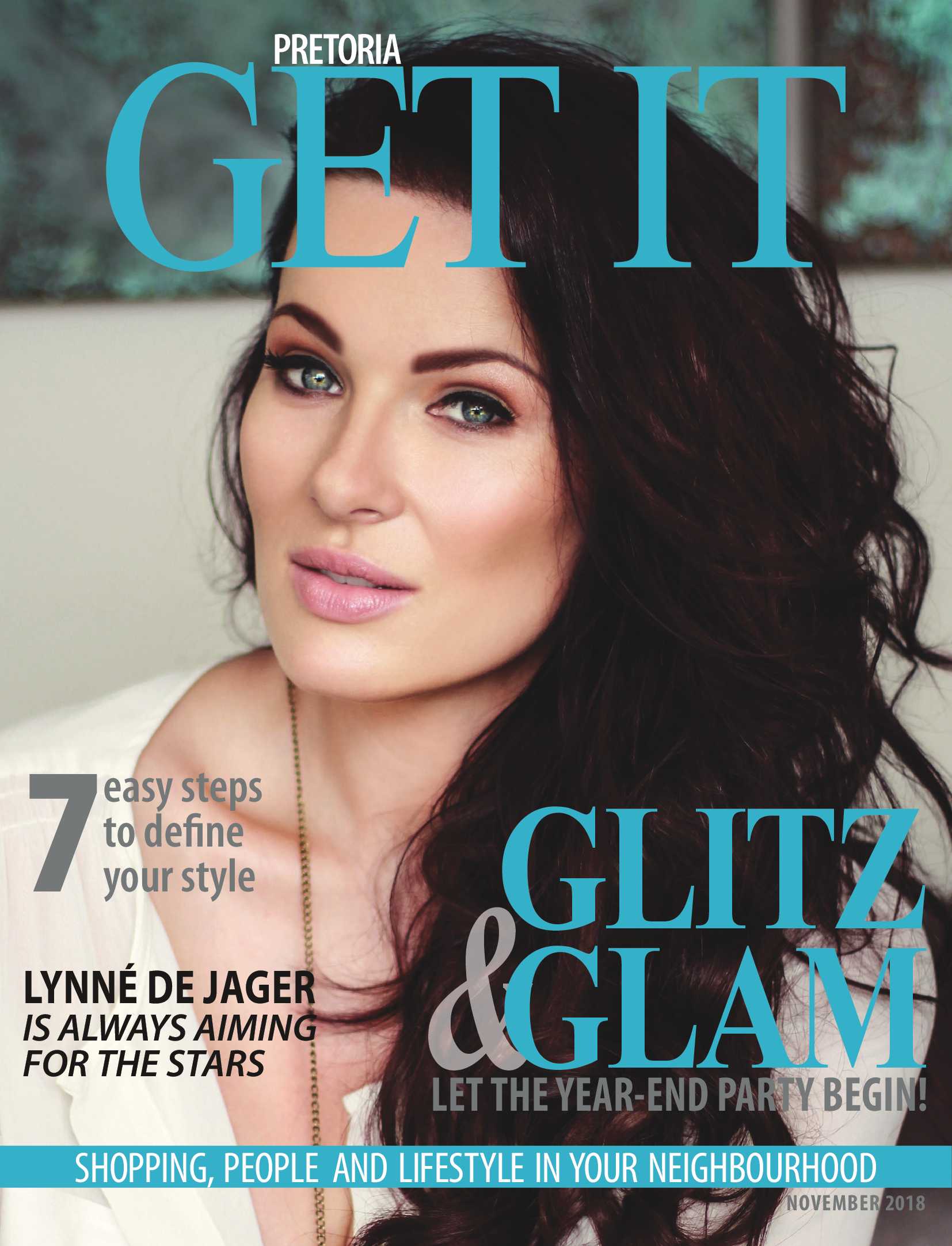 Summer Spoil
is a national brand of premium free magazines available in centres across the country.
to see other Get It magazines in the network.