The Hair Guru
Getting hold of this extremely busy woman is no easy task. She is always on the run, be it as owner of INOAR South Africa, mom or wife.
She is pure sophistication, right from her gorgeous curly hair and determined hazel brown eyes down to the soles of her feet. Even when dressed in a comfortable pair of jeans, Hendrien has a flair about her that is hard to be missed. She is a force to be reckoned with, but don't take our word for it.
She's the woman who brought the Brazilian hair brand INOAR to local shores and turned a formerly unknown hair line into one of the country's hottest must-have hair products. Hendrien was visiting friends in London when she went to a salon to help tame her 'unruly, extremely out of control, curly hair', as she puts it. The stylist suggested an INOAR Brazilian treatment and although sceptic, she tried it.
Little did she know that walking into that specific salon would not just change her own life, but also those of the thousands of women whose hair woes she helps fix with the INOAR products today.
"I had never heard of this product or brand before, but was willing to try anything if it was going to help tame my curls. The treatment was so amazing and it lasted for four months," Hendrien exclaims.
Flying to England every four months to do her hair was, however, not an option but, being the entrepreneur that she is, Hendrien immediately saw the potential when noticing the results on her own hair and so the journey started.
"The quality of the product spoke for itself, which made it fairly easy to be passionate about the company and build on its strengths here in South Africa. INOAR's research and product development makes me love this brand and seeing the results and the tears of joy it brings to customers are what makes me tick," Hendrien adds.
"The INOAR products are developed in Brazil, a southern hemisphere country with a mixed race population just like South Africa. Having access to all those different hair types and with world-renowned hair alchemist Ino Manoel at the head of the company, we get to develop ground breaking formulas."
And for fans of the brand she has great news! INOAR Colour will soon be launching in South Africa.
"The treatment has won the best hair treatment award in Brazil and it's a game changer in that it colours with care," she explains.
Any advice for other female entrepreneurs wanting to start their own business?
"I believe if you give your business to the Lord, work every day, do what you must and can, the plan will unfold along the way. Be on the lookout for 'analysis paralysis' and like Richard Branson says: 'Just do it!'" the businesswoman adds.
Apart from being a busy businesswoman in charge of the South African leg of the INOAR empire, Hendrien, who has called the capital city home for the past 30 years, is also a wife and mother. But how does she do it all?
"I have amazing support structures at home, a powerhouse team at the office. I spend a lot of time on my knees and of course, there is always wine," she laughs.
When she's not working, Hendrien loves spending time at home, preferably around a fire surrounded by her husband, kids and family.
During the month of June we're celebrating Father's Day and for Hendrien family is very important.
"I lost my father in a car accident when I was 16, but my fondest memory of him will always be the time we spent together on the family farm in Botswana. This farm is the glue that binds us as family together and I am very fortunate to have the most loving supportive stepfather," she adds.
To her husband and father of her kids, she has a very special message. "My family is my safe haven; my happy place. Thank you for being our hero."
MORE ABOUT HENDRIEN:
What is your favourite place to grab a bite to eat with the kids?
Capeesh or Meet on Milner.
What is your own best-kept beauty secret?
Drink a lot of water and never go to bed with make-up on.
What is your best-selling product?
On the professional side, G-Hair treatment, and retail INOAR Speed Blond.
What is your own favourite product?
The Kailce Multi-Functional oil, especially up here on the highveld with its dry winters. I use it on my hair and face.
What is the one fashion item all ladies should have in their closet during winter?
The timeless leather jacket.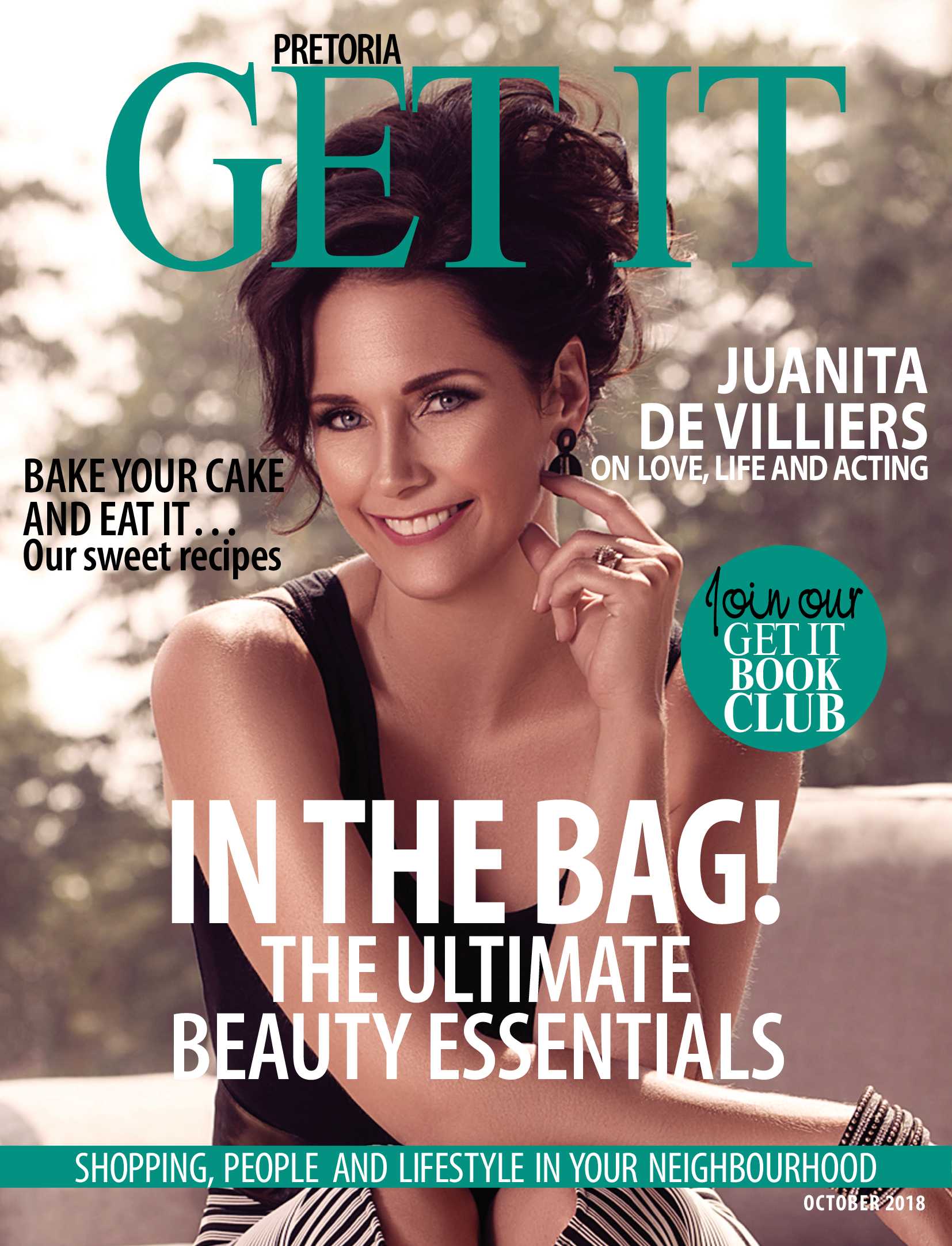 October Spoil
Welcome summer with an extraordinary rosé.
is a national brand of premium free magazines available in centres across the country.
to see other Get It magazines in the network.