Mom on the go…
Always dressed to the nines, Cornwall Hill's Claire Gardiner sure knows a thing or two about having a busy schedule. A popular face at many a social event, she's never too busy to do her part in helping those in need. That's when she isn't busy raising her three daughters or being a doting wife to hubby Shawn.
Looking at her fashion sense it's easy to see that Claire loves taking care of her appearance. But few know that she's actually a qualified CIDESCO aesthetician with diplomas in anatomy, physiology, psychology and business economics.
After completing her studies and finding her feet in the industry the bubbly blonde met Shawn, fell in love, tied the knot and found herself a permanent resident of the Jacaranda city.
But it wasn't all moonshine and roses. In 2013 a major turning point in her life came when she had to undergo major back surgery. "A chiropractor snapped my S1/L5 and damaged my L3 vertebrae and within a week I had to undergo a seven-hour emergency operation, as the broken fragments were severing my sciatic, kidney and bladder nerves ,which would've left me in a wheelchair with a bag," Claire explains. Rehabilitation took three months and she had to learn how to sit all over again. "I wasn't allowed to even be in a car and learning to sit again was a real eye opener to what my life was about," the beauty adds.
"I realised that God cocooned me in for a reason – to heal and become a butterfly at the age of 39. The two years of timeout just focusing on myself and family was just what I needed," she says.
In 2016 her life took another, happier, unexpected turn when she decided to enter the Tammy Taylor Mrs South Africa pageant and got selected as a top 25 finalist and finally Mrs South Africa
Charity 2017 as well as Mrs Personality and Ambassador for CANSA.
"I've always been a charitable person, but I was now able to do it out of the box and on a bigger scale with the help of my title. It's when I got out of my comfort zone that I realized again how blessed we are with good health and the ability to give of yourself to help other in need.
As Mrs SA Charity and Ambassador of CANSA she got involved at the Nicus Lodge at Tshwane District hospital in Pretoria, a home away from home for children battling cancer. "This is heart-wrenching to witness and I decided to raise funds by organising and hosting the Shimmer and Shine Bohemian Nights event in 2016 and the Tantalizing Tango Nights event in 2017. I also spoke at Cuppa For CANSA events hosted by 2017 finalists and helped to raise over R1.2 million to aid research, support and education of CANSA.
But it didn't stop there. This year Claire is continuing her charity work and working as a mentor for the newly launched CANSA programme, Charity for People. She also started her own charity project, Learn To Fly, a registered non-profit organisation and an enrichment ballet programme for 26 disadvantaged girls from Irene Middle School. The programme was founded in 2016 and even featured in the Moscow Times newspaper.
"The ballerinas are transported from school to the Russian Ballet Academy of South Africa at Doringkloof Mall, where they train with Madame Slou Akimguereeva and return back to school afterwards. Even though I'm not a dancer or ballet teacher myself, I have a passion for empowering girls to be empowered women. Ballet is the basis of all sport and it is an education through arts and culture. In fact, their headmaster even said it improved their school marks," Claire, who is also the official sponsor of the Russian Ballet Academy since 2014, beams.
The little dancers even got to perform as part of the Royal Moscow Ballet in 2017 and 2018 and will be showing off their skills for Russian president Vladimir Putin, who will be visiting South Africa soon.
And of course, Claire is also mom to Caitlin (20) a third year BComm law student, Shannon (18) a first-year BComm student and fourth-year senior Olympic rhythmic gymnast, and Teagan (14) a Grade 8 learner and an aspiring netball player.
"Our household is definitely busy and crazy at times, but I've managed it because a 'mom has just got to do what a mom's got to do!' Our family motto is, 'Gardiners don't give up!' and we support and love each other unconditionally, knowing that a family that plays together, stays together," a smiling Claire says.
To the beautiful blonde, motherhood is a gift that should never be taken for granted. "Mother's Day to me is a celebration of the best title in the world, because every mom is number one in their children's eyes. It's the greatest feeling to be spoilt with love, hugs, kisses and presents not forgetting breakfast in bed – even if it is only an annual event," Claire beams.
This September she and hubby Shawn will be married 22 years. To help keep the love flowing and passion alive, they've created a little tradition called "Champagne Date Friday". "It is our selfish day to just focus on each other. I obviously do take a little more care in dressing up because it's a date after all and it's exciting to meet up with the man in my life at any chosen venue for a little fun," Claire giggles. The girls normally meet up with them later for dinner and love the idea.
After more than two decades of marriage and calling Pretoria home, Claire is as passionate about the city and family as ever. "Living in Pretoria has been a blessing for our family and if there is one thing I love about this beautiful city is its incredible history and its beautiful Jacarandas. Especially when they're in full bloom lining the streets," Claire says. For now she's off again to run an errand before the girls get home. But watch this space, 2018 is going to be a great year for Claire Gardiner.
Tofind out more about Claire and her day-to-day life, follow her on: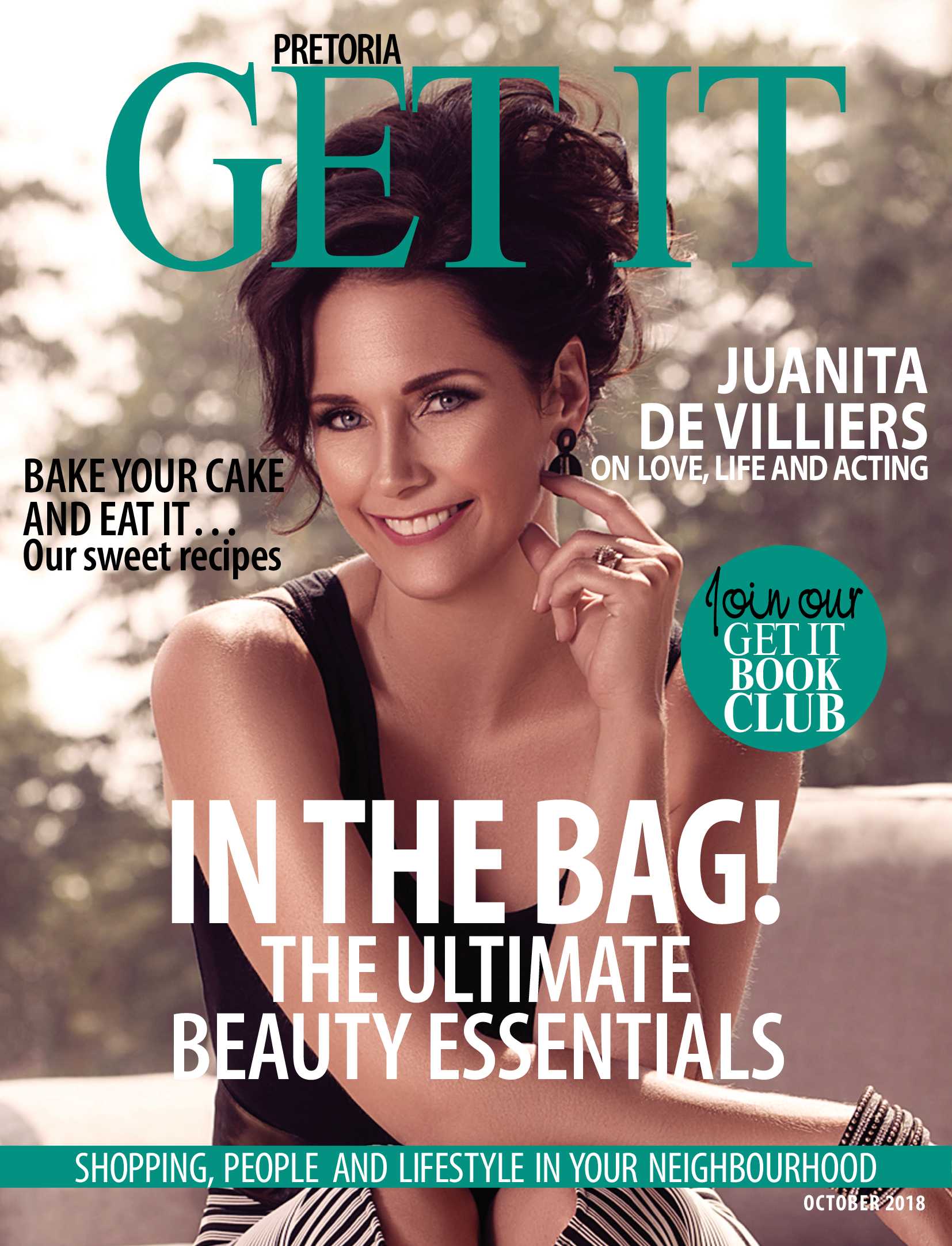 October Spoil
Welcome summer with an extraordinary rosé.
is a national brand of premium free magazines available in centres across the country.
to see other Get It magazines in the network.