Dreaming big…
What made you decide to enter Tammy Taylor Mrs. South Africa?
Long ago, there was a little girl who had a dream. She dreamt of a world with children without tears, women without pain, and of angel wings. She dreamt she made a difference. She dreamt she encouraged. She dreamt she inspired. Each dream starts with a story. I have a dream and I am writing a story, because I was that little girl.
How did your journey lead you to entering Tammy Taylor Mrs. South Africa?
The path to adulthood is, at times, a rough one. When a father picks up and leave a mother with four young girls, he often leaves behind a storm of pain, bitterness and suffering. Growing up was hard; my childhood after my parents' divorce was, at the very least, challenging in so many ways. She married too young, did not finish high school and being a full-time mom at a young age, never had the opportunity to find a job or pursue a career. After the divorce she made it her life's mission to ensure that all her children attained post-school qualifications, no matter how hard, enabling them to be strong, empowered woman who are equipped to take on the real world.
She perceived our determination, celebrated our successes and remained our pillar during my youngest sister struggle with cancer but life took its toll and my mother passed away at the age of 61. She never had the opportunity to see her youngest walk down the aisle or watch her grandchildren grow up. Unfortunately, there are many other inspiring women like her whose stories will never be heard.
Mom deserves to know how much she really means to the world.
Why would you like to be crowned as the next Tammy Taylor Mrs. South Africa?
This is my chance to continue mom's legacy; my story of empowering and portraying the real virtues of South African women and to be the voice of those who are not heard. To inspire and encourage others to rise above their circumstances.
What is the heart behind this pageant?
Tammy Taylor Mrs. South Africa is a movement that shines the spotlight on real women. Real women with real lives, real stories, real curves and real problems. It is not the typical beauty pageant. It offers married South African woman who have real-life careers, families and hobbies a platform to make a difference and to empower women across South Africa.
What do you hope to achieve with the title if you win?
Actions do not just happen, but inspiration motivate people to act. Whether you are trying to inspire people to donate to a shelter, someone to chase their dreams, or ignite the flicker of hope, you must be the inspiration to them which I aim to be. I am so excited for having the opportunity to ignite the flame of hope, optimism, courage and becoming a voice of change.
Tell us more about yourself? 
I am a 43-year old mom-in-heels to two beautiful boys and one girl and wife to an incredible and supportive husband. I was born in Vanderbijlpark and lived in the Vaal Triangle area for 40 years. We relocated to Centurion four years ago and has been a behind-the-scenes lifesaver (Personal Assistant) to the COO and General Secretary for a large corporation for the past three and a half years.  I love spending quality time with my husband and kids, cooking, reading and making memories.
What is your personal take on fame and fortune?
Fame and fortune is not easy to manage. Happiness from fame is fleeting and wealth does not change somebody's character so much as revealing and amplifying it. I love the quote by Boyd Packer which sums up my personal take on the matter perfectly – The choice of life is not between fame and fortune, nor wealth and poverty, but between good and evil.
How do you unwind?
I like to take 30 minutes to one hour and just be with myself. Walking, a hot bath or just vegging on the couch. The key is: no media, no phones, no books, no kids, no distractions. Easier said than done, though!
How would your best friend describe you to a complete stranger?
I asked my best friend to answer on my behalf: "Brigitte is a beautiful woman – not just on the outside, but on the inside as well. She is a bubbly person with real compassion for other people and will always try to help someone in need. She is extremely positive and driven and very conscientious. She likes to learn new things and has a very curious mind, thus an avid reader and researcher to stay on top of everything that happens in the world. She inspires people, is a wonderful supportive wife to her husband and is a great mother for her children. She has a gift to understand what her individual children's needs are and can accordingly adjust the way she disciplines, teaches and coaches them through life. She is a wonderful person to have in your support network and will always make a plan when she reaches an obstacle. It is really a privilege to know Brigitte and I treasure her friendship and support for which I am very grateful."
What motivates you to keep on keeping on in tough times?
 When I feel low I count all the blessings in my life. I have a family. I have a home. I am healthy. I am alive. Being grateful is one of the best ways to stay happy and motivated. Also, thought is the mother of action. You can't think like a victim an expect yourself to perform like a master. During tough times I become a beautiful thinker!
Who inspires you and why?
My mother never ceased to amaze me. I felt like I lost part of myself when she passed away. Even though she had to endure major trials through most of her life, she was always cheerful. She exhibited faith during tough times and at times of sorrow, she grew wiser. During times of weakness, she grew stronger. During times of defeat, she grew victorious. Her strength and faith still leaves me speechless.
What is your top fashion/beauty/fitness tip?
 Reality is that people do judge a book by its cover. Never look messy, wear ironed clothes, throw out the off-white whites, fill the chipped nail polish and use your lint brush! Brushing your brows can make you look instantly put together and rule #1 to working out … never skip Monday!
What is your favourite coffee shop in Pretoria if you want to treat yourself and a friend to something sweet?
Passi Décor and Deli in Lyttleton both have the most charming ambiance! They serve the most divine three-layered cake that consists of a layer of carrot and red velvet cake, topped with a layer of chocolate mousse cake. Death by sugar, but worth every calorie.
Are you involved in any charities?
I am involved in the Women4Women foundation, which is a non-profit organisation focused on female empowerment and community upliftment. The W4W programme help woman to improve their earning, living conditions, confidence, appearance and to secure the future for their children.
What philosophy do you live by?
Mom never allowed us to let fear of the unknown dictate our choices. She didn't shield us from pain but gave us the confidence in our ability to deal with whatever hardships life threw our way. She never prevented us from making mistakes, but allowed us to face the natural consequences of our actions. She never confused discipline with punishment, but guided us to develop the self-discipline we would need to make better choices down the road. She never allowed us to lose sight of our value, because that would make us lose sight of what's important in life. This is the philosophy I grew up with and still live by.
What legacy do you hope to leave behind?
The purpose of life is to have a life with a purpose. We all want to be known as a person who truly made a difference, to leave an imprint on this world and to leave behind something that can make the future a little brighter. The moment I am no longer alive, my principles, philosophies and achievements will become immortal. I would like to be remembered as the person who helped bring the light back into every person's life whose flame of hope, optimism, courage was extinguished.
Tell us something surprising about yourself that not many people know?
I recently covered my c-section scar with a tattoo. It is a branch with leaves and flowers, representing life, with three butterflies representing my three beautiful children.
Do you have any special talents that not many people know about?
I am such a Foodie! I can cook up a storm and have quite a natural talent for creating great meals. In this world, there is no greater medium than food to unite people.
Where and how can people follow your journey and how exactly can they vote for you?
They can follow my Facebook page, or on Instagram and they can vote for me by liking my photo on the Mrs. SA facebook page at https://www.facebook.com/MrsSouthAfrica/. Please remember to like the page as well as my photo otherwise the vote won't count.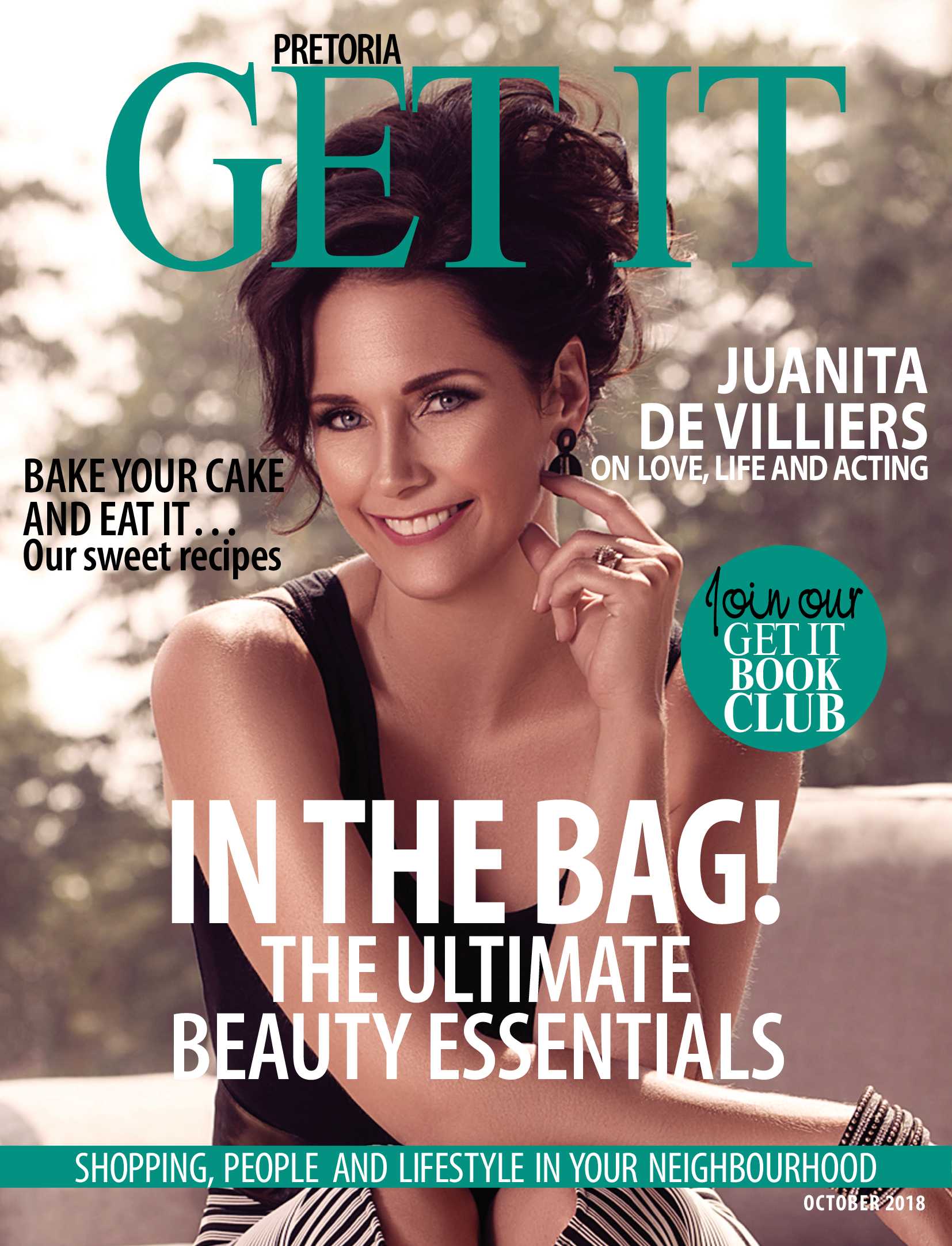 October Spoil
Welcome summer with an extraordinary rosé.
is a national brand of premium free magazines available in centres across the country.
to see other Get It magazines in the network.