Fun, fearless and aiming for the crown
What made you decide to enter the Tammy Taylor Mrs SA Pageant?
The sisterhood, I've been following the Tammy Taylor Mrs SA Pageant and female empowerment programme for the last two years and felt so inspired by all these wonderful women working together. I've realised that women are so powerful – we are entrepreneurs, strong pillars in our homes and communities, we survive illnesses, run marathons. Imagine how much we can accomplish when we work together.
How did your journey lead you to enter Mrs SA?
I became friends with Michelle Bekker who entered the pageant in 2016. That year she wasn't selected as a finalist but decided to re-enter again in 2017. In 2017 she made it to the finals. She inspired me so much with her tenacity and personal growth over those two years. Nothing is more inspiring than a woman determined to rise. I just had to enter.
Why would you like to be crowned as the next Mrs SA?
I would like to invest all my time and energy into this amazing brand. I want to be part of this sisterhood who devote their time and lives to uplift the women of South Africa.
What is the heart behind this pageant?
It's all about female empowerment. Making women realise their value and what they can accomplish when they put their hearts and minds to it.
What do you hope to achieve with the title if you win?
I want to help to bring an end to girl hate. We can accomplish so much as women when we work together. When we realise that we are all unique and special. We are all gifted in our own ways. If we work together we can change the world.
Tell us more about yourself?
I am Desiree Fiess, 38-years-old and live in Garsfontein, Pretoria with my husband Richard. I've been a flight attendant for the past 18 years. I'm a signed model with GAPA modelling agency. I'm a travel and lifestyle blogger. I absolutely love travelling and it is such a privilege being able to take South Africa to the world and vice versa. I'm actively involved in giving back to my community and choose to celebrate every Christmas and birthday by hosting a welfare project.
What is your personal take on fame and fortune?
We are only blessed so that we can bless and inspire others. You cannot take your wealth to the grave so spend it well, enrich the lives of others and be a blessing.
How do you unwind?
I love to exercise, it clears the mind. We are also keen scuba divers – nothing relaxes you like the ocean.
How would your best friend describe you to a complete stranger?
Optimistic, energetic, go-getter with an incredible love for life and people.
What motivates you to keep on keeping on in tough times?
My faith and family and knowing that no situation, no matter how good or bad, is a destination. Nothing in life is permanent, not even life itself. So, difficult times will pass.
Who inspires you and why?
My mom. When I was a child she started a feeding scheme for underprivileged kids and later opened up a house for abandoned babies on the East Rand. Today, she spends most of her time as motivational speaker. She has been married to my dad for more than 40 years and until recently she had a full-time job and she raised three children. She lives without excuses and gives without asking for anything in return.
What is your top fashion/beauty/fitness tip?
Avoid sugar, you will see a huge improvement in your energy levels. Exercise is not the enemy, it's a privilege, so many people will never be able to walk and will never see the inside of a gym, so make the best of your health and opportunities given to you. You only have this one body, take care of it.
What is your favourite tea garden in Pretoria if you want to treat yourself and a friend to something sweet?
I love Blos Café. They make the best chocolate brownies in town.
Are you involved in any charities?
Gracia House is close to my heart. I also turn every Christmas and birthday into a charity event or fundraiser, just my way of expressing my gratefulness for another year well lived.
What philosophy do you live by?
Kindness never goes out of fashion.
What legacy do you hope to leave behind?
You can change the world by being kind.
Tell us something surprising about yourself that not many people know?
I appear in the opening scene of the movie LOVE ACTUALLY, go watch it…
Do you have any special talents that not many people know about?
Not really but I have decided to embrace my long legs. I run half-marathons and these long legs earned me a modelling contract.
Where and how can people follow your journey (websites/social media) and how exactly can they vote for you?
They can follow me on Facebook, Instagram or Twitter.
Kindly vote by SMS: SABC3 Desiree Fiess to 35959.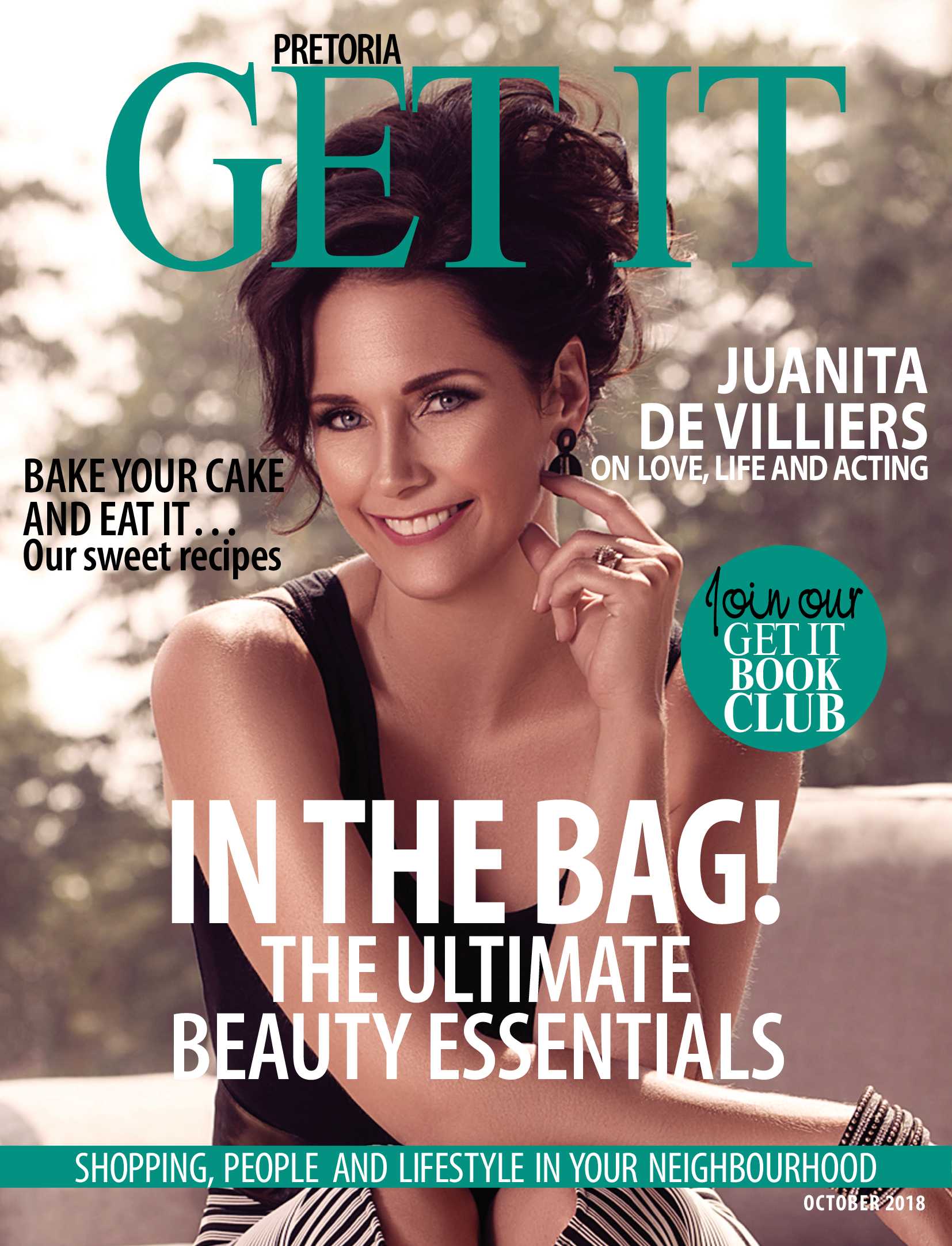 October Spoil
Welcome summer with an extraordinary rosé.
is a national brand of premium free magazines available in centres across the country.
to see other Get It magazines in the network.