Map It!
You know how they say the eyes are the mirrors to the soul? Well, the face is a mirror of your overall state of health. And all those blemishes and blotchy skin that you are struggling to get rid of might go a bit deeper than you think. Your life events are often written and mapped on your face, making face mapping a great resource to use in analysing your health and well-being and to pick up on any imbalances within your body. Toxins, hormonal imbalances, a bad diet and illness all show up as blemishes, blotchy skin, dark circles, oily or dry patches and skin irritations. But before you freak out – this is a good thing. It's all part of your body's way to alert you of existing and potential problems. Now it's just a case of identifying these problems and addressing them correctly.
These 'symptoms' show in specific areas and ways – e.g. toxins in your digestive system as spots on your chin, hormonal swings as breakouts around the mouth, kidney problems as dark circles under the eyes, heart problems as a red rash across the nose…and so on. Cool, hey?
To help understand the wonders of our faces a bit better we called in the help of Daniella Shapiro, the founder and CEO of The Oolala Collection Club, a Proudly South African eCommerce, unisex,
cutting-edge skincare and lifestyle brand.
So where does face mapping come from?
Rooted in Chinese and Ayurvedic medicine and similar in practice to reflexology, traditional in-depth face mapping is medical. These days, however, it is also used as a beauty treatment and for skin analysis in beauty salons across the country on a daily basis.
What can your skin tell you?
Face mapping is the art of unlocking the mysteries of your skin to help you treat pimples, adult acne, blemishes and other skin irritations. Nine out of 10 there is a solution behind your skin disorders. For example, sudden breakouts around the mouth are typically caused by a hormonal imbalance – this is referred to as hormonal acne. Hormonal acne typically occurs on the lower half of the face, especially around the chin, mouth and jawline. Women are most susceptible to hormonal acne when things like the monthly cycle, contraception and pregnancy disrupt the delicate balance of hormones. Hormonal breakouts appear as papules on the skin's surface. These papules are solid raised pimples and occur because the hormones are producing excess oil.
Why do face mapping?
Face mapping helps you to really get to know your skin and is mainly used to create a personalised skin-care regime targeting different facial zones and specific issues. "Fact is, that what works on one zone, and for one problem, won't have the same benefit on another. Treatment should therefore be more specific and works better when the root cause is known," Daniella explains.
More often than not women who struggle with dry or oily skin will look for a product and then use it all over their face. Face mapping is all about identifying the different problem areas you might have, helping you to address each issue on its own.
"Face mapping is even more effective when the products used in treatments and the take-home skin-care regime do not add to the causal issues – as many beauty products with artificial ingredients do," Daniella advises.
"Pure products (products without harsh chemicals) are developed to specifically target not only skin-type, but facial zones and the skin problems that show up in them, such as the The Oolala Collection range, takes the art of face mapping to a new level as a beauty treatment," says Daniella.
Where to go to get face mapping done?
Although most beauty salons offer face- mapping services, many women would love the option to do this at home. Well, now you can! Thanks to beauty ranges like The Oolala Collection SkinESSENTIALS and products such as the The Oolala Collection Colloidal Silt Mud Mask which draws out toxins, you can face mapping at home.
THE DIFFERENT ZONES
1 and 3 – Bladder and digestive system
Improve your diet by eating more wholefoods and hydrate with at least two litres of water a day.
2 – Liver
Slow down, party girl! Try cutting back on alcohol, heavy foods or dairy. This area can also indicate a food allergy.
4 and 10 – Kidneys
Keep yourself hydrated with water and toss the caffeine and soda.
5 and 9 – Respiratory system
This area tends to break out in acne with people who smoke or have allergies.
6 and 8 – Kidneys
Dark circles are usually a result of dehydration. Drink more water and less caffeine.
7 – Heart
Take some time to chill out and find your bliss. Make sure you keep a check on your blood pressure.
12 – Stomach
It is the time to clean up and renew. Consider a detox to remove toxins. You may also want to consider adding more fibre to your diet to help with the digestion process.
11 and 13 – Hormones
Stress and hormonal changes can sometimes be alleviated with more water, more sleep and a few extra servings of dark, leafy greens. If breakouts in these areas are persistent, make an appointment with your doctor to look into a possible hormone imbalance. Additionally, breakouts in this area can also indicate when you are ovulating.
14 – Illness
Can be a sign of your body fighting bacteria to avoid illness. Take some time out and drink plenty of fluids.
Oolala's products are
100% cruelty-free,
100% paraben-free,
100% vegan,
0% questionable.
For more about The Oolala Collection visit www.oolalacollection.com.
Daniella Shapiro – CEO of Oolala's products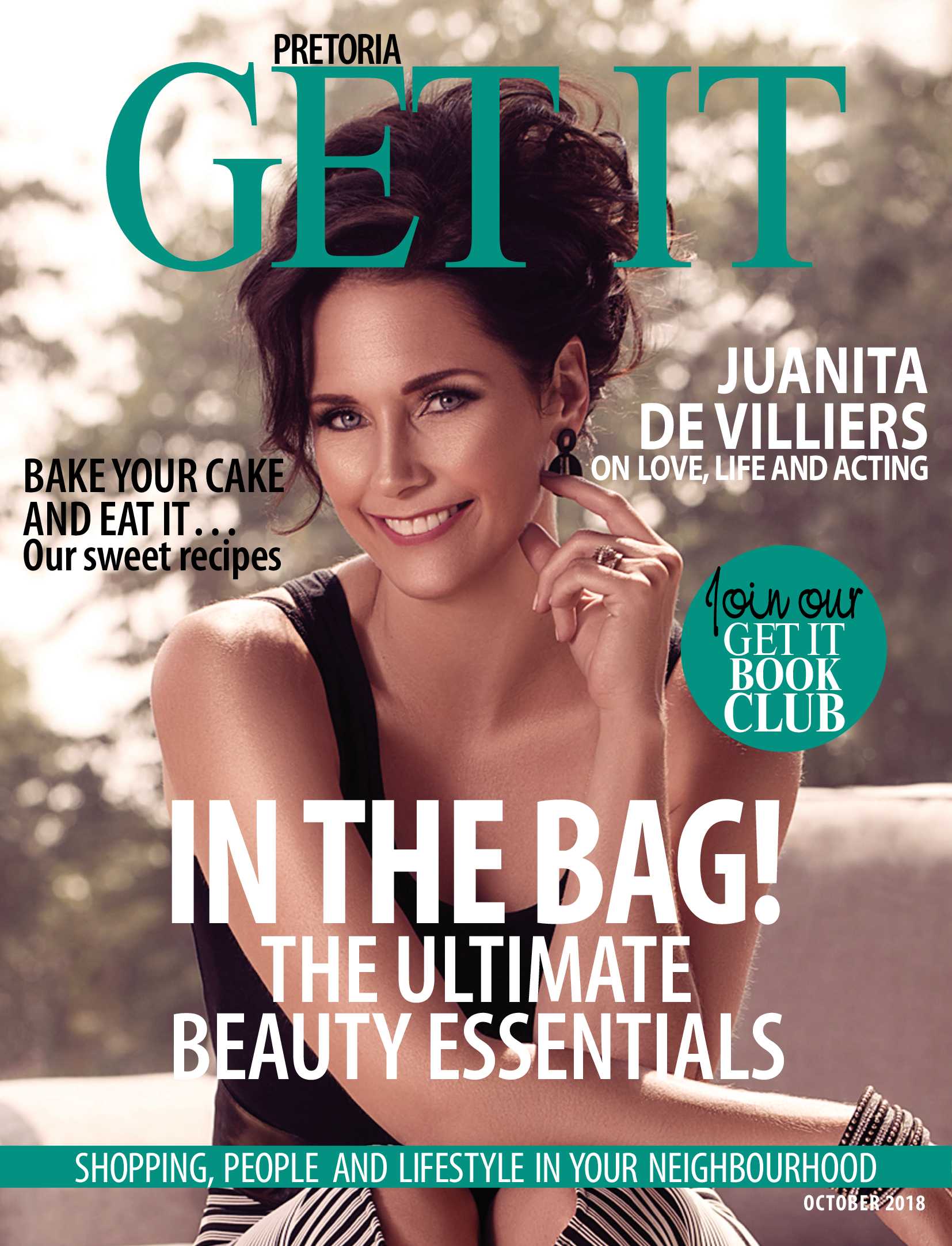 October Spoil
Welcome summer with an extraordinary rosé.
is a national brand of premium free magazines available in centres across the country.
to see other Get It magazines in the network.