Dreaming big!
Even as a young girl growing up in Laudium, Suraya-Rose always knew she had a passion for the camera. "Although, I didn't roll out of my mother's womb quoting Shakespeare, that's for sure," she laughs.
It was during her high school years at Lyttelton Manor High when she auditioned for the annual year-end play and was cast as the lead that she started thinking about a career as an actor.
"I'll never forget that feeling of having not only butterflies, but an entire zoo in my tummy before walking on stage in front of my family and all my peers. When I walked on stage, this feeling came over me; I never felt like I belonged anywhere until that moment," Suraya-Rose explains.
Since then the local beauty has built a career that many will envy her – as model and actor. She studied Drama and Speech at Michelle Ayden Dramatix (M.A.D) in Centurion and even graduated with a Performance Diploma (specialising in drama) from Trinity Guild Hall in London.
Her modelling career began when she was playing soccer with one of her friends. "His mom, who owned a bridal shop with the most gorgeous Indian outfits, suggested that I be the model for her next shoot. The next thing I knew, there I was in magazines and on billboards," the 26-year-old giggles. And her love of acting?
"I don't know where this love comes from. Perhaps it has something to do with my late father and grandfather, who both worked in the film industry. I do know, however, that for me acting is a deep-rooted passion. I love my job, the craft, the dedication and the struggles you have to face. I wouldn't want to spend my life doing anything else – living truthfully under imaginary circumstances," she says.
Browsing through her impressive portfolio, it's easy to see why Suraya-Rose is such a sought-after model. She's worked with some of the best photographers and people in the entertainment industry and has been highly popular with magazines, clothing brands, nutritional supplement and energy drink brands; she's also appeared in numerous local and international music videos.
But it's not all fun, she warns. "I don't think many people know how hard it is walking into an audition room filled with the most beautiful women who are just as talented or even more talented than you. You become okay with rejection. It sucks, but beating yourself up is not going to help you book the next job. You quickly learn that it's not personal. I get rejected at least three times a week," she adds.
"Another big challenge for me personally is knowing that sometimes I can't attend special occasions like birthdays. People don't always understand that I have to work.
"Being a model is a 24-hour job," she explains.
The biggest lesson she's learnt so far is: "The people who matter in your life will understand and support you, the ones that don't … well they just shouldn't be there. Also, it doesn't cost you a thing to be kind to people."
On the acting front you might recognise her from local movies like Free State and Last Broken Darkness, Generations or the international television series, ICE. But, says the beauty, she loves acting and modelling equally. "They each have their own challenges, and I think this quote sums it up best: With modelling, you pose. You want to look your best all the time. With acting, you have to be aware of the camera, but the more you show your imperfections, the better you're going to be – Unknown."
5 minutes with Suraya-Rose
Favourite beauty secret…
No make-up is the best make-up.
I stay in shape…
By following a vegan diet six days a week – I'm very strict when it comes to my diet.
I would advise aspiring models to…
Remember that another person's beauty does not take anything away from your own.
Biggest life lesson learnt…
Once you've reached rock bottom, there's nowhere else to go but up.
In 10 years' time I see myself…
Still the same old me, only wiser and kinder. They say an overnight success is 10 years of hard work. So hopefully I'll one day be the CEO my parents always wanted me to marry.
My favourite food is…
Anything that is bad for you – I love junk food.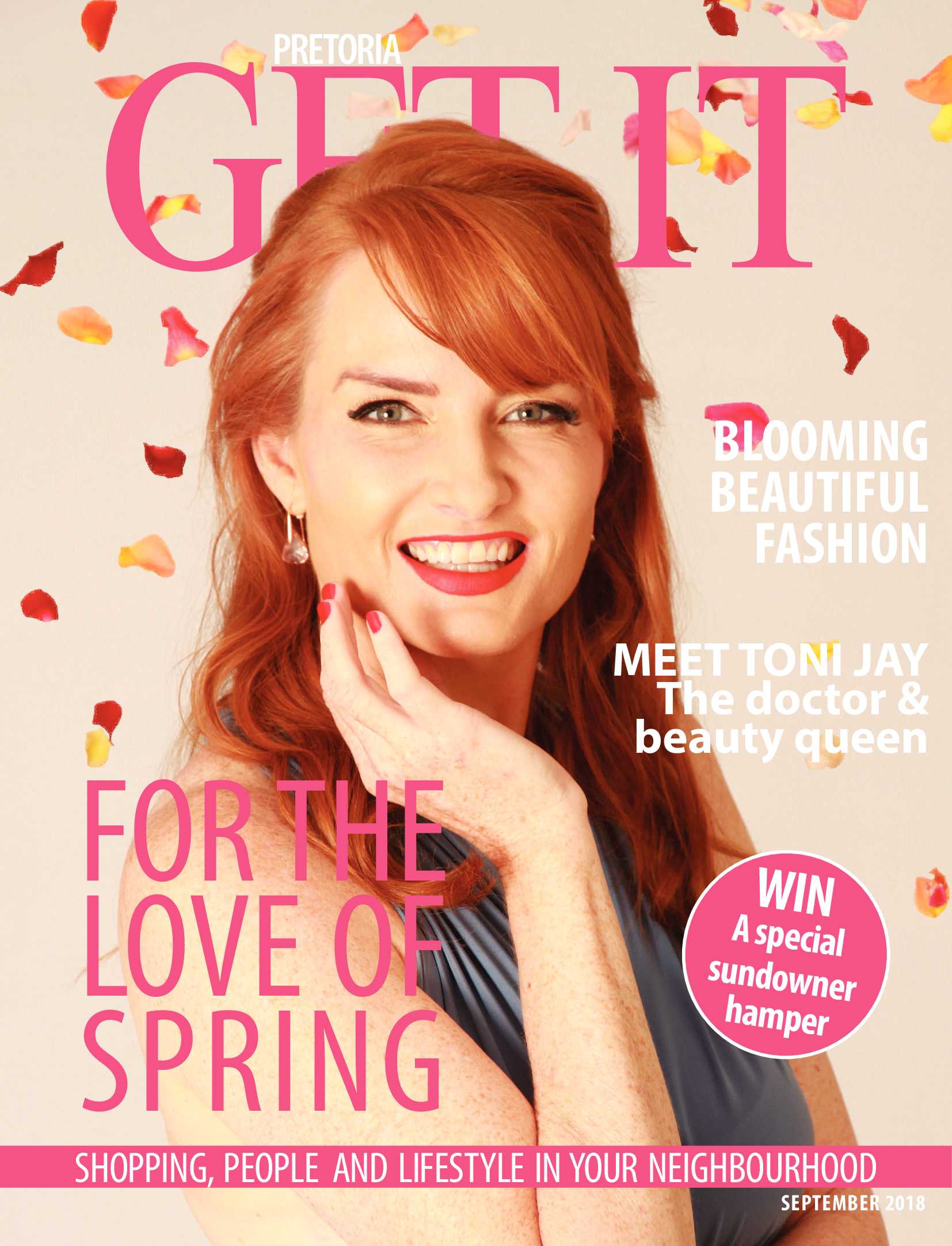 Spring Spoil (We're celebrating the arrival of spring with a sundowner picnic.)
is a national brand of premium free magazines available in centres across the country.
to see other Get It magazines in the network.