Be a shoe master!
Sigh! Nothing beats the feeling of trying on that newly bought pair of shoes. Okay, maybe a glass of wine paired with a gigantic slice of chocolate cake. Or can it?
So what does your shoes say about you? Flashy footwear tend to indicate a more extroverted fashionista compared to more practical shoes, who some
believe is an indication of a more agreeable person.
And do we even have to ask about your shoe care? Taking the proper care when it comes to our shoes isn't always top priority, but with the right care your favourite pair can last you for years to come and still look just as good as the day you bought them.
Here's a few clever ways to help you take care of your shoes:
WATERPROOF IT!
Although South Africa does not usually permit for rainy weather all year round, a clever and easy idea to keep your shoes in tip-top shape is spraying them with a waterproof protector. It will keep the surface from getting marred if they do get wet in the rain. Also remember to wipe down shoes after a long day's use to get rid of any unnecessary stains.
PREVENTION IS KEY
Simply replacing the soles of shoes can add a couple of years to their life and it's easier than you might think.
There are loads of shoe repair shops across the city and you also can get your hands on clever shoe protectors that easily slide into your shoes or get added on to the heels to make them last longer.
ALTERNATE YOUR FAVOURITE PAIR
We all have that one favourite pair that just goes with anything. You love it so much that you will literally wear it every chance you get. Only problem is, the more you wear them, the more worn out they will get.
An easy solution is to alternate pairs. Maybe get multiple pairs or pairs in different colours and alternate them daily or even weekly. Giving your shoes the day off will allow then to air out and dry properly.
CLEAN INSIDE
We know. This is the last place you will probably think to clean your shoes, but the insides are probably even more important than the outside of your shoes, especially if odour is a problem.
Simply get your hands on a piece or two of cotton wool, dab it with a drop of alcohol, tea tree oil or antifungal agent and rub it all along the insides of your shoes. Take care not to get any solution on leather, as it can lead to stains.
LET THEM DRY
Many women (and men) suffer from excess perspiration, which can cause insoles to erode with time. Simply wearing sock liners or "secret socks" will do the trick and absorb any excess perspiration. Never use a hairdryer or heater to dry your shoes as this will remove unnecessary moisture from your shoes – room temperature heat is all it needs.
STRUCTURE
So you know how when you bought your shoes they were fitted with paper or plastic to help retain the shoe's shape? Well, this is very important and should be continued even after you first wear them. Using newspaper is a clever way of making sure your shoes retain their shape. Another upside to using newspaper is that it is perfect for absorbing any extra moisture.
STORAGE
You can spend all day making sure to avoid puddles and any unnecessary damage to your shoes, but did you know that your shoes can take more strain when tucked away in your
closet? How do you store your shoes? Close contact with other shoes can cause scratching, fading and other damage. Keep your shoes away from direct sunlight and don't just throw
them into the closet. Neatly pair them on a shelf or your closet floor leaving enough breathing space between pairs. Alternatively, you can also hang a shoe bag with pockets on the back
of a door. You can also keep shoes in their original boxes and label them for easy identification.
As with everything in life, different materials call for different care instructions and the same goes for your shoes.
Here's a quick breakdown of the different material types available and how you can better take care of your shoes.
LEATHER CARE
We sure love leather products, but they do require a little bit of extra care. And no, you can't simply use any products. The salt in perspiration tend to dry out leather over time; and a good polishing and regular upkeep will keep it supple and in good shape. Remember to first remove all dirt and stains before applying any product. A great wax (specifically formulated for leather products) will add the necessary moisture your leather shoes need.
PATENT OR SYNTHETIC SHOES
Always remove any dust and dirt residue with a damp cloth before rubbing too vigorously. And always remember to dry shoes with a light cloth before putting them away. Avoid using a hair dryer or heater, as it can damage the material.
CANVAS OR FABRIC SHOES
If your shoes have laces, make sure to remove them before cleaning the shoes. Fill a basin with luke warm water and soap before rubbing the shoes with a soft sponge or a toothbrush. Leave the soles for last. Rinse in clean, warm water by rubbing them with a clean sponge. Use a dry towel to help dry out the shoes, by simply dabbing the surface of the shoe, to get rid of any excess water.Do not dry with a heater or hairdryer, as the material can get damaged or stitching can come undone.
Some of our favourite shoe trends right now:
Ava backless loafers from Country Road, R999.
Leather Marcia sneakers from Trenery, R999.
Leather velcro strap sandals from Woolworths, R599.
Imali peony black suede boots from Clarks, R2 790.
Scout low boots from Witchery, R1 399.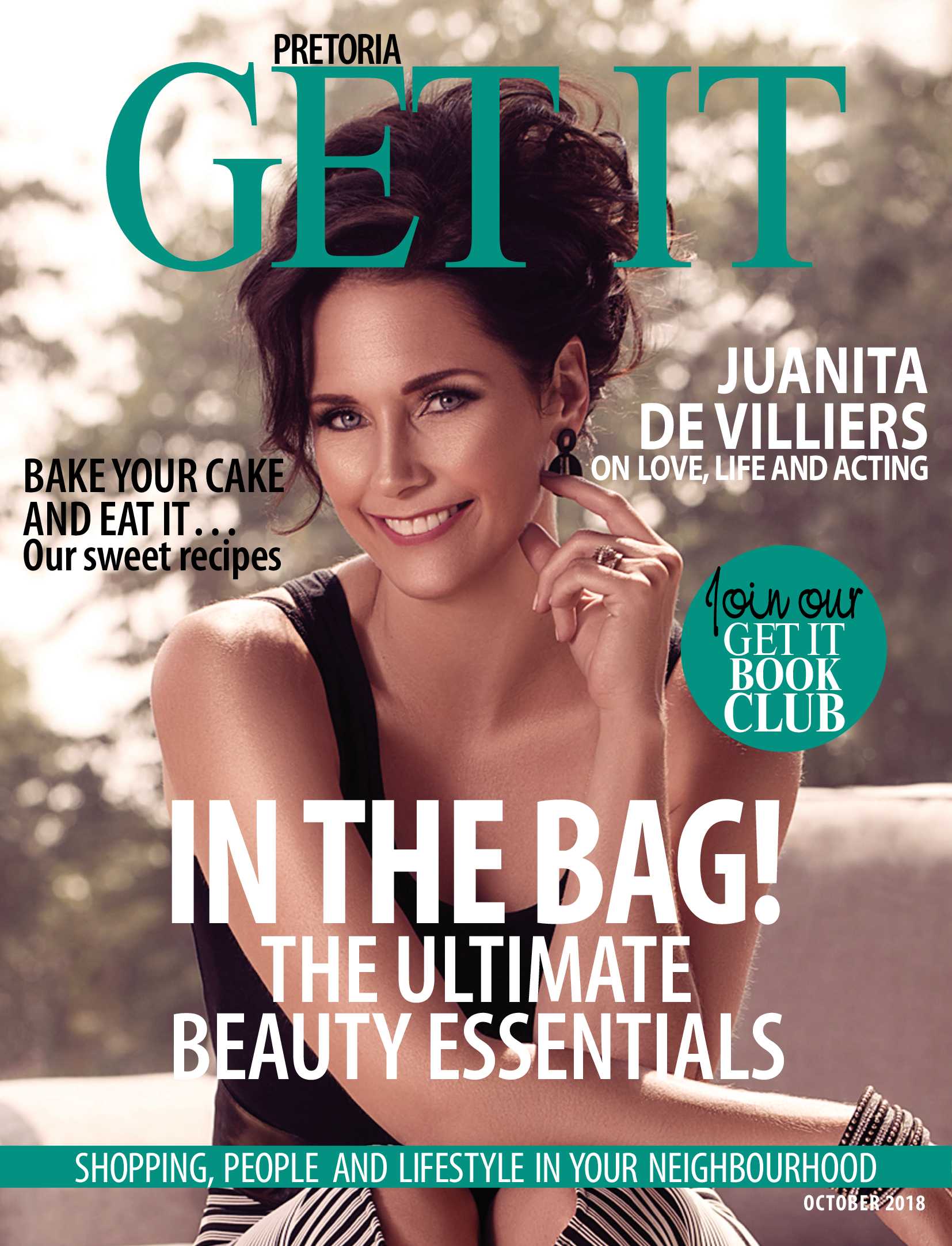 October Spoil
Welcome summer with an extraordinary rosé.
is a national brand of premium free magazines available in centres across the country.
to see other Get It magazines in the network.