Want a sound and peaceful sleep? Check out these tips
When last did you check out your mattress?
A comfortable bed does not necessarily mean that you are getting the quality sleep you need to feel relaxed and revitalised come morning.
Research shows that we spend approximately a third of our lives sleeping – putting even more emphasis on the quality of your mattress.
But how do you know what mattress to get? Tihara Baker, relationship manager for Engel & Volkers Southern Africa, shares the following tips:
Check the lifespan of the mattress
Each mattress is unique and can last for as long as it is cared for. If the mattress is well taken care of, it could easily last up to seven to 10 years. However, this is merely dependent on its maintenance and use.
Trust best brands for longest lifespan
It is impossible to give a generic answer as to what brand of mattress will have the longest lifespan and be the best for you. It is very much based on the type of mattress you prefer or require due to health reasons and your own personal comfort preference. Well-known brands include Simmons, Cloud Nine and Sealy.
Trust the best type for longest lifespan
Any mattress that is used more frequently will have a shorter lifespan. You could buy a cheaper mattress for the spare room, as it will be used less, and buy a good quality for the main bedroom as it needs to last longer. As a basic rule of thumb: air and innerspring have the shortest lifespan, memory foam offers mid-length durability, while latex types are known to last the longest. However, you need to keep in mind that it will still need to be taken care of and cleaned regularly to ensure optimal a longer lifespan.
Take care of your mattress
– Read the instructions
Most manufacturers provide specific information on how to care for your mattress. Follow their guidelines and understand what the limits are for optimal results and save yourself from spending extra money in the future.
– Protect your mattress
Mattress protectors are the best way to keep your mattress free from dust mites, bacteria, bed bugs and to create waterproof barriers. These covers are great – especially when potty-training kids and for people who tend to sweat in their sleep – to ward off bacteria getting through to the mattress as they are simple to remove and wash.
– Beds are not trampolines
If you or your kids want to use your bed as a trampoline, this will seriously damage your mattress. Jumping on the mattress can do a lot of damage to its coil unit, comfort layers and foundation. The mattress will become too soft and compressed in no time at all and will leave you with a creaky and sagging surface.
– Know where to sit
Avoid repeatedly sitting in the same spot for prolonged periods of time. Do not sit on the same edge of your bed all the time your mattress will lose its structure prematurely.
– The base
A base provides the best foundation for your mattress and ensures that it stays supportive and comfortable for years to come. Most manufacturers recommend buying a base and a mattress as a unit to ensure optimal performance.
– Rotation
While most new mattress models offer a no-flip design, it is a good idea to give your mattress a clockwise turn every three months to ensure even wear and avoid lumps and bumps. Rotating it should be preventive maintenance, not a solution to a mattress that is already damaged.
– Cleaning
Launder your sheets and mattress protection weekly in hot water to remove irritants like pollen and dust mites. Stains or spills should always be treated with caution, use slightly soapy water and a soft washcloth to gently blot, never rub the affected area. Avoid harsh chemicals, as they may damage the foams and fibres.
Look at the different types of mattresses available
– Memory foam
Consists of at least 5cm of memory foam, over at least 15cm of support foam. Minimum 10 years warranty, if kept ventilated, clean, and rotated.
Pros:
· Has the unique ability to conform to your body while dispersing your weight evenly throughout the bed. It improves circulation, making it ideal for achy joints, morning pains and restless sleepers
· Resistant to mould, bacteria, bed bugs, dust mites and many types of allergens
· Less prone to sagging
Cons:
· Retains heat, restrict body movement
· Lacks bounce, and have extended break-in periods
· Fairly expensive
-Innerspring
A variety of steel coil support systems consisting of springs connected into a single unit or individually wrapped pocketed coils. Most likely will need replacing within seven to eight years.
Pros:
· Consumer familiarity and widely available
· Various firmness and comfort options from which to choose
· Most affordable mattress type on the market
Cons:
· Heavy and hard to move in order to clean or flip
· Movements are distributed through the whole surface – if you sleep with a partner, you will feel their movement
· Because of its underlying layers of wool and fibre, it provides the perfect environment for dust mites to breed without being disturbed
-Hybrid
Combining two or more different types of support systems, typically sophisticated memory foams with an advanced innerspring system. Polyfoam is cheap and degrades quickly, so if the bed uses a lot in its base foam, the overall lifespan of the mattress will be shorter than the innerspring.
Pros:
· Reduces the motion transfer that can occur with tossing and turning
· Cool sleeping surface
· Less expensive than memory foam mattresses, making it a good choice for budget-conscious shoppers
Cons:
· Initial off gassing odour
· Shorter lifespan due to large amount of poly foam
· Heavy and difficult to move
-Latex
These are the crème de la crème and tick all the boxes for quality and longevity. All-latex mattresses consist of all-natural, blended or synthetic latex – one of the most durable, resilient mattress materials that can last up to 15 years.
Pros:
· Extremely comfortable – this is due to the natural springiness of latex
· Promotes pain relief and is an ideal choice for those with back pain or joint pain
· A huge advantage of latex mattresses is their ability to promote proper spine alignment
Cons:
· Tend to be more expensive than a cheap spring coil mattress or polyurethane (PU) foam mattress
· Somewhat heavier than many other types
-Foam
Constructed of different weights and densities of petrochemical-based flexible polyurethane foams or latex rubber foams. Low-density foam has a short lifespan where higher-density foam means more support and more durability.
Pros:
· Limited heat retention
· Adequate motion isolation
· Affordable
Cons:
· Too firm for some
· Relatively thin
· Below-average edge support
-Pillow top
Additional padding is sewn into the top of the mattress. This padding can consist of regular foam, memory foam, latex, fiberfill, cotton or wool. Can last up to five to eight years.
Pros:
· Above average initial comfort
· Tops that include memory foam tend to have exceptional pain-relief potential
· Conforming ability
Cons:
· Not being able to flip the mattress is one of the biggest objections
· Heat retention
· The pillow top part does not last as long as the rest of the mattress
Take note of the guarantee and warranty
The most reassuring thing about buying a bed or mattress from a reputable retailer is the guarantee and warranty that comes with it. It is great to be comfortable in the knowledge that your investment is protected.
For example, if you have bought a bed with a 10-year manufacturer's warranty, during the first two years (depending on the manufacturer's terms) you will be reimbursed in full for any defective workmanship. This is known as a guarantee. The guarantee covers poor workmanship and/or material defects only. The manufacturer will either replace or repair your bed in accordance with their guarantee policy.
Tihara explains that your warranty comes into effect as soon as your bed's guarantee period has elapsed. After this time period, you will be asked to pay a pro rata cost for any repairs for the remaining eight years, called a warranty. Warranty periods differ between all manufacturers, anywhere from between one to 25 years.
Keep maintenance in mind
Rotating and flipping your mattress is not the only important thing; it needs to last its full lifespan.
Mattresses are home to bacteria, germs, mould and mildew that can slowly eat away at the mattress materials and could later also start causing allergies.
"It is advisable to have it cleaned professionally from time to time, though cleaning it yourself now and again is better than not at all," Tihara added.
When cleaning your mattress, it is very important to use proper cleaning products that it can withstand.
Step 1: Vacuum it
Vacuum all the overlapping, narrow paths and the sides of your mattress, to get rid of any dirt namely pet hair and dust that has accumulated over time.
Step 2: Get the stains out
Mattresses typically acquire three types of stains: blood, urine and any other fluids.
Dried blood stains – Can be treated by making a paste of 1/4 cup hydrogen peroxide (3%) mixed with 1tbsp of liquid dish soap and table salt. Lightly spread this onto the stain and allow it to dry before scraping the residue off. Dab at any remaining stain with a white cloth dipped into hydrogen peroxide, rotating the cloth as the stain lifts off. (Using a white cloth prevents dye transfer from the cloth to the mattress).
Urine stains – Dissolve 3tbsp baking soda in 236ml of hydrogen peroxide and add a drop or two of liquid dish soap. Dab this solution onto the spot. (Do not drench your mattress). If the stain persists, wait until the area is dry, then whisk together 3tbsp dry laundry detergent powder and 1tbsp water to make a dry foam. Lightly spread this on the stain and leave it for 30 minutes. Scrape the dried paste away with a spoon. Use a white cloth dipped into hydrogen peroxide to remove any stubborn bits of paste. Vacuum the area.
Other bodily fluids (vomit, etc.) can be removed by blotting the stain with undiluted, unscented household ammonia. (Do not drench your mattress). Wipe the area with a clean, damp cloth and sprinkle the spot with baking soda to neutralise the odour and extract any lingering moisture. Let this dry then vacuum the area thoroughly.
Step 3: Deodorise it
Over time, sweat can build up. To rid your mattress of foul odours, sprinkle it well with baking soda and gently rub it in with a scrub brush, so it gets into the mattress fabric. Let the baking soda sit for at least 10 minutes, and then sprinkle another light layer of baking soda over the entire surface and let it sit for a couple of hours. It will absorb any excess odour or liquid from the stain removal process, and leave your mattress smelling fresh and clean. Vacuum the area thoroughly.
Step 4: Flip mattress and repeat steps 1-3
Need to replace your mattress. Here is a checklist to look out for:
– How much can you afford?
Knowing your budget is a great help, but saving a little more for a superior brand or type of mattress is a better plan. Rather settle for a 10-year long-term investment than having to purchase a new one every three years.
– What size do you need?
If you are buying a completely new bed, including the base, you must remember to measure your room as you also need to make sure you have enough space, not only for the bed to fit, but also to move around the bed freely. The ideal comfortable space around the bed should be 90cm.
– Check the warranty and guarantee.
This differs from manufacturer to manufacturer obviously the longer the warranty, the better.
– What type do you prefer?
This will depend on your budget, personal requirements and needs as well as your individual comfort preference.
– Keep your original base in mind.
Should you not be buying a completely new bed, you will have to find out if your base will be able to give the mattress of your choice the ultimate support.
– Keep your weight in mind.
A firmer comfort level is generally recommended for individuals of above-average weight and build. The recommended mattress for plus-size people should be around 30cm thick; this is because thicker mattresses are able to better contour to the sleeper's body, providing better pressure relief.
Overall, memory foam and latex ranked as the best mattress types over spring beds and typically last years longer.
– Is the bed long and wide enough for you?
Want to know if a mattress is going to be wide enough? Lie down on your back and clasp your fingers behind your head. Do your elbows touch your partner or stretch past the edge of the mattress? If yes, then you probably need a bigger size. A good mattress fit should give you at least 15cm of space at the foot of the bed.
Firm or soft? Be aware that firm mattresses are not always better for your back. Contrary to popular belief, a mattress does not have to be firm to be good for your back – there is a difference between firm support and a firm feel.
Your sleep position is also important:
Firm – if you sleep on your stomach, a firm mattress will keep your spine aligned.
Medium – best if you sleep on your back, as it will provide support for your spine, back and neck while keeping you comfortable.
Soft – great for sleeping on your side, because it will support and contour to your body's curves.
Most importantly, do not dial for your mattress – try before you buy.
Whoever will be sleeping on the bed should go shopping for the bed.
You really do have to lie down in your usual sleep position and give yourself a few minutes to see if it is right for you.
Turn from side to side, evaluate the support level, and make sure you feel relaxed and comfortable in all positions.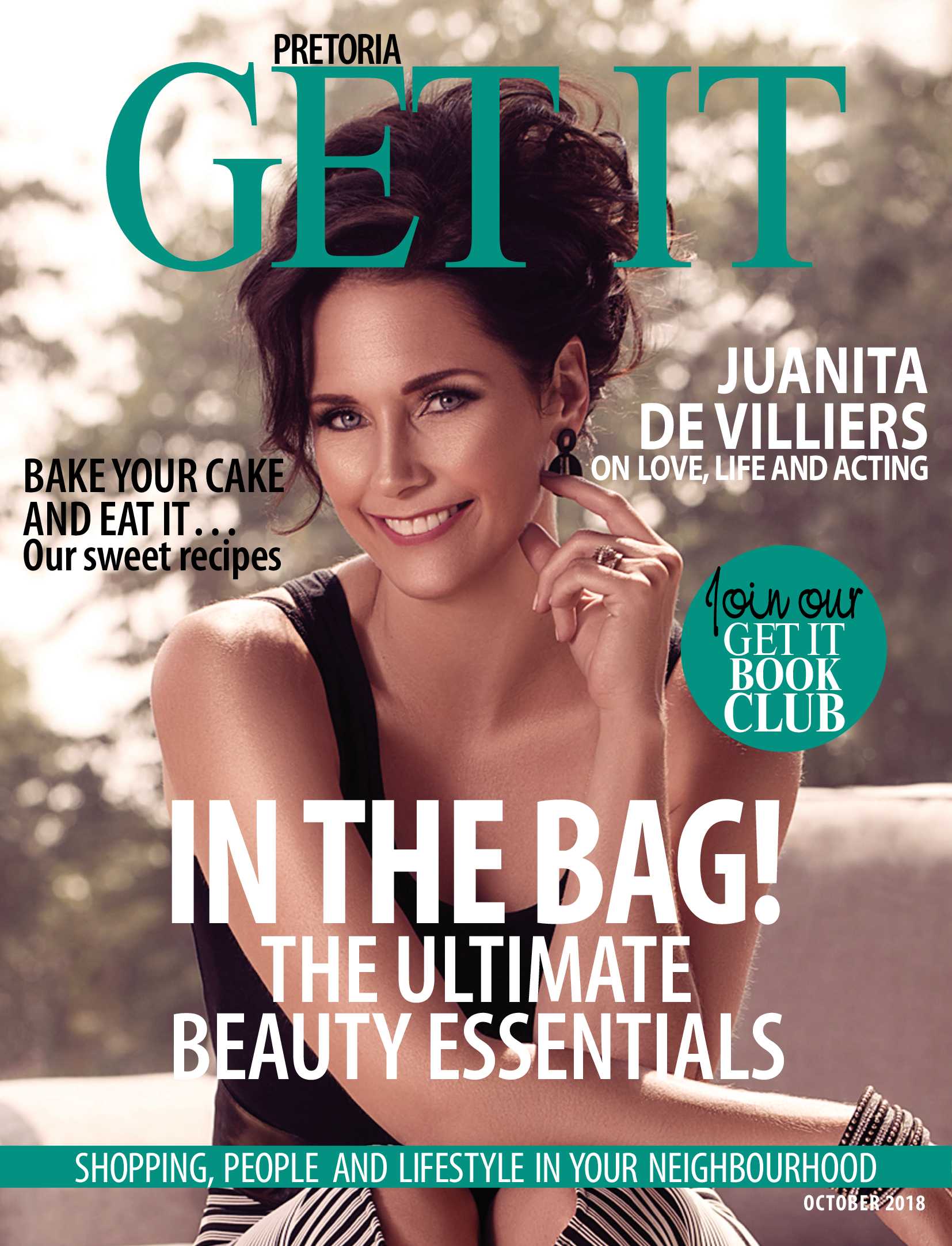 is a national brand of premium free magazines available in centres across the country.
to see other Get It magazines in the network.