In the name of family
The much anticipated movie, Susters, featuring Diaan Lawrenson, Quanita Adams and Leah is finally hitting the big screen this month. And, with parts of the movie being filmed right here in Pretoria, we couldn't be more proud or more excited to see if we can spot the different locations.
To get a bit of behind-the-scenes info, we caught up with one of the brains behind the movie, Waterkloof's own Jenny Griesel. She is no stranger to the entertainment industry and along with her business partner at Inhoud Huis Media, Johan Vorster, Jenny felt there was a gap in the market for an Afrikaans chick flick.
"It all started with a dream, an idea … to make a chick flick that would capture the hearts and minds of women all over South Africa, in a way that was light-hearted but also had substance," Jenny, who also produced the movie, explains. But, with Susters being the first feature film from their production company, there was a lot of hard work to be done. After all, it's not easy to put a blockbuster movie together.
In the industry the blonde powerhouse is known as a a media specialist of note and with the role of producer to add to her already impressive resumé, she was up to the ultimate task.
"A producer is like a project manager. You manage all elements of conceptualising, producing and finishing a film, from appointing all the crew, casting the key actors, managing the cast and crew, securing the funding, managing the budget, finding the locations, planning the travel and accommodation, and, and, and. Truth be told, there are days it feels like being a circus ringmaster," Jenny laughs.
For the film, Jenny and her team roped in heavy-weight actors like Quanita and Diaan and with Leah's successful repertoire of movies behind her name, she was the perfect choice for the third sister.
The movie tells the story of three adopted sisters who drifted apart, only to reunite after the death of their adoptive mother. They get sent on the journey of a lifetime filled with sweet memories, interesting characters and the most beautiful places.
"The three adopted sisters in the film have distinctly different personalities so it was important that the three actresses could stand up to each other, and retain their unique characters on a physically challenging shoot. They became friends with each other on set very quickly, and you can see that chemistry on screen," Jenny explains their choice.
The script was written by Corine du Toit and Sandra Vaughn, and filming took just over six weeks. Numerous local hotspots feature quite prominently, so keep a lookout! Scenes were shot at
Wonderboom Airport, LISOF: Fashion Design School & Retail Education Institute, Humdinger Tattoo Studio in Moreleta Park, De Jongh Diving Centre in Hatfield, the Mahem Raceway in Pretoria North, two beautiful character houses in Rietfontein in the Moot, a modern house in Olympus and the Hartbeespoort dam bridge. "We have a beautiful capital city and it was a dream of mine to make a film here. I think too many film-makers overlook Pretoria in their haste to shoot in exotic, far-away locations. It also helped on a practical level as it is where our company is based. Your home town is your stronghold. It gave the crew a chance to get into their groove and get used to working with each other, before we took them all off into the freezing cold Northern Cape Karoo … which was literally in the middle of nowhere," Jenny explains.
What's even more special is that the movie isn't only made for women, it was also mostly made by women. "If you want to make a chick flick, you need women on the team, so it was vital. As women, we see the world differently, and it was very important that the film's perspective be authentic and sincere. I was thrilled when we secured a female director of cinematography (they are very rare), Sunel Haasbroek. Not only was she technically very good at what she does, but I think she brought a sensitivity and realness to the way the film was shot. Carike Nel, also Pretoria-based, did a sterling job as wardrobe HOD (head of department), Mary Sue Morris was outstanding in her role as head of make-up and hair, and Tascha van der Westhuizen as my production manager was also super," Jenny adds.
Susters opens in cinemas on 30 March and is definitely a must-see. Keep an ear out for the theme song, Nooit Alleen, by Leah and Jo Black, on radio stations across the country. "The movie is for all sisters, moms, daughters, aunts, cousins, friends … and anyone who enjoys a light-hearted film, and a lot of laughter! It focuses on the idea that you are okay just as you are. "Your beginning does not determine your ending in life. We all have the potential to fulfil our dreams and live a big destiny," Jenny says.
*For more about Jenny and her busy lifestyle visit www.jennygriesel.co.za.
The movie releases in cinemas on 30 March so be sure to get your tickets. For more about the movie visit us online at pretoria.getitonline.co.za.
Backstage

Backstage

Backstage

Backstage

Backstage

Backstage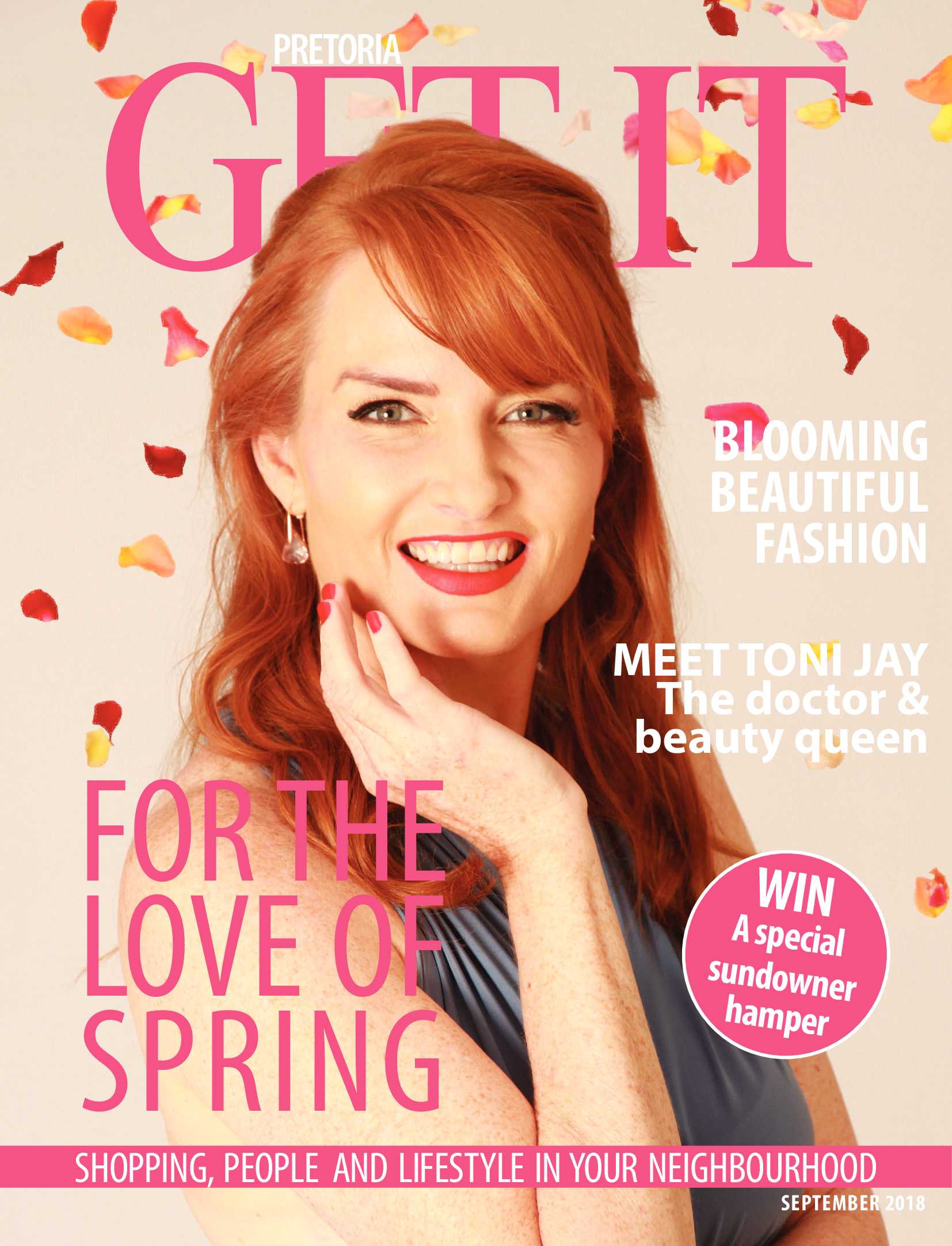 Spring Spoil (We're celebrating the arrival of spring with a sundowner picnic.)
is a national brand of premium free magazines available in centres across the country.
to see other Get It magazines in the network.