Drama Queen
Even as a seven-year-old, Carina knew she wanted to pursue a career in the entertainment industry. At only four years old, she started taking ballet lessons and a love for the stage was sparked.
"I always knew I wanted to either be a ballerina or actress and I was determined to follow my dreams. I never even thought of doing anything different, but in high school I finally decided to study drama," the brunette beauty explains.
She completed her B-Tech Drama and Film degree cum laude at the Tshwane University of Technology and between 2012 and 2014 she was seen in the popular South African SABC1 soap opera Generations in the role of Isabel. She was also seen in the Disney feature film, Queen of Katwe, in 2016. Carina has since also portrayed roles in numerous television adverts, stage productions and in 2017 she was nominated for a Huisgenoot Tempo Awards in the best actress category for her role in  7de Laan as the feisty Dr Welman.
Any similarities between you and Alexa?
"I'd say we're both very driven people and success in our different careers are very important to both of us. We're both also very perfectionistic and like to do things by the book. We both care for others but I think I'm more of a joker than Alexa and have a better balance between work and my social life," Carina adds. To play her role convincingly, she needs to do a lot of preparation before hitting the set. Apart from learning her lines, she also needs to keep up to date with medical terms as Alexa is a doctor and involved with most medical scenes.
"Because I play the role of Amanda too, it takes extra preparation simply because the roles are so contradictory. My voice, body language and mannerisms have to be different for each character," Carina explains.
Her days can be long and Carina leaves home in Equestria at 05:45 each morning. "At 07:30 we start to 'block' the day's scenes and depending on when I need to be on set, I get make-up and hair done or go through my lines, work with our dialogue coaches and do voice exercises. "I like to go through my script and analyse scenes as I get them and will practise my lines for the next day as soon as I get home. Our last scenes we usually shoot at 7:30pm, whereafter we can go home," Carina explains.
Her list of dream jobs are long but she definitely wants to do a bit of comedy. "It's such a challenge, especially because it's easier to make people cry than to make them laugh. I also have a deep love for Shakespeare and would love to be part of a Shakespeare stage production. And of course, then there are a few film roles that I would love to tackle, roles with interesting and complex characters," she adds.
When she's not busy working on the 7de Laan set, Carina is busy with planning to bring her one-woman show, Suster, back to stages across the country. When she does get some time off, she loves to travel. "Travelling is one of my big loves that started when I was a 16-year-old exchange student in Bruges, Belgium. I've visited most countries in Europe including Germany, the Netherlands, Austria, Switzerland, France, Italy, Hungary, Slovakia and the Czech Republic. I've also visited England, Scotland, Ireland and Wales, Mauritius and Mosambique," she dishes. It was during a holiday to Scotland that Deon popped the big question at the Eilean Donan Castle.
The couple got married in October 2016 and are still giddy and in love. "My husband is also my best friend and I share even the smallest things in life with him. It's important to notice the small things your significant other does for you and of course, to spend quality time together," she says. On the odd day off, Carina and her mom, who share a love of cappuccino, scout Pretoria for new and unique coffee shops. "I also love to spend some time with my husband and friends around a fire. That is when we're not working on some sort of project at our new house," she adds.
With Easter around the corner, Carina and her family love doing Easter egg hunts in the garden to see who can find the most eggs. "I'm very competitive so it gets quite interesting. For one of the long weekends, Deon and I are also planning a road trip along the Garden Route. It's one of my favourite parts of our country," she gushes.
MORE ABOUT CARINA:
What is the last book that you read?
The Diary of Anne Frank.
What is your best beauty secret?
Drink a lot of water and don't ever go to bed with make-up. In my profession it's important to rest your skin on your days off and not wear any make-up at all. I also go for regular
chemical peels and IPL treatments at Advanced Dermatology.
What's in your handbag?
Wallet, sunglasses, three different lipsticks, my cellphone, to-do lists, tissues, wet wipes,  a mirror, travelling needle and thread and gum.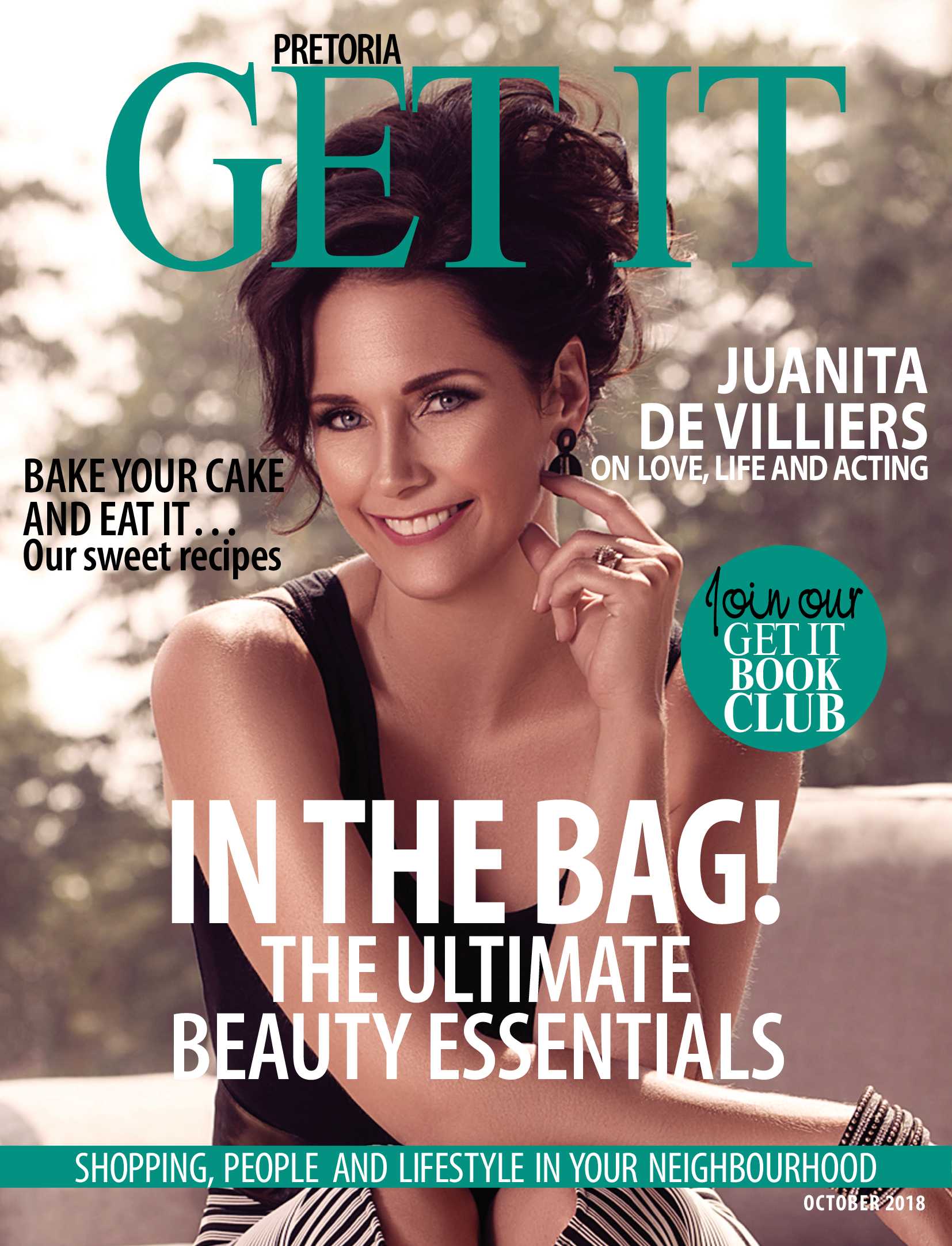 October Spoil
Welcome summer with an extraordinary rosé.
is a national brand of premium free magazines available in centres across the country.
to see other Get It magazines in the network.