To the top!
Even as a young girl growing up in Evander in Mpumalanga, Adré always dreamed of a career in the entertainment industry. Her fondest memory is of her, brush in hand in front of the mirror, pretending to be a KTV presenter.
"I remember I also wanted to be a dentist like my aunt or a vet – because saving animals sounded really cool. I had many dreams – I still do!" she laughs.
The bubbly beauty always knew she wanted to change the world… somehow, and enrolled at the University of Pretoria as a drama student.
"I always thought if you were famous you could change the world – you could have a platform to do greater things like getting involved with charities.
After completing my studies I went from one audition to the other and every door was slammed in my face. I realised how cruel dreams could be – you believe something about yourself and then failure knocks on your door.
"I realised that I loved the arts but I loved people more and that I could do great things with just being me – I just had to create my own platform, "she explains.
While at Tuks she was crowned Miss Charity for Tuks Rag, and her charity dream was born. She started her own NPO – GOSH4cancer – aimed at helping children with cancer. "I have an unexplained love for children with cancer. It gets rough and sometimes you think of giving up, but then you meet a new kid with a new journey and they teach you that giving up is never an option. Then I find myself trying to get new sponsors, getting donations for wigs, sending out prayer chains, hosting spa days etc. I love those faces – they are priceless, "Adré explains.
Her love for children further drove her to obtain her post grad in early childhood development and she worked as a teacher at a couple of Pretoria schools.
"Every child and every school will always have a special place in my heart, but I knew it was my short term plan and that God really had bigger shoes for me to fill. I do still get messages from parents saying their kids miss me or think of me – it really is so heart-warming to know that in such a short time you had a major impact on a child's life – that is the reward of teaching," she explains.
These days Adré works as a stylist and recently open the doors to Browtique, her own permanent make-up and paramedical aesthetics salon.
"I really have a passion for making people feel good about themselves and permanent make-up allows me to enhance their facial features. I don't change them, I only allow for the inner beauty to show on the outside as well
Paramedical aesthetics is my true passion. I treat scars, varicose veins, stretchmarks, acne, ageing, tattoo removal etc.This is really the industry that I am most passionate about because these are the procedures that give woman back their confidence to face the world," Adré adds. When she is not running around beautifying the women of Pretoria, she loves spending quality time with her husband Brett. "We love to visit new restaurants, take a stroll to our complex swimming pool with our four legged baby Jonty, or have a quiet braai at home with lots of wine," she says.
Oh, and did we mention that Adré is also a photographic model? She just got back from Mauritius for a shoot for Cashmere Polo Club.
"I never thought that at the age of 30 this would happen as modelling really is more of a hobby than a career. But I'd be lying if I said I didn't like modelling. You get to have your make-up done and wear beautiful clothes, it is nice to be the artist and not just the stylist, for a change" she laughs.
Adré's passion for people and beauty shines through although she says it took her 10 years to reach her dreams of starting her own thing. "Always compete with yourself because that is positive and healthy competition and never think that you've made it. "Stay humble in everything you do and never forget to laugh out loud because laughter really does make the world turn round. The beauty industry is really big but also really small, everyone knows everyone – be the best at what you are good at and never bad mouth anyone else's work.
"Just be the best version of yourself and keep up with the trends," she advises.
To make an appointment with Adré, please send an e-mail to meetmrsmuller@gmail.com.
All about Adré
How long does it take you to get ready in the morning?
Hair washed the day before – 30minutes, hair included 50 minutes. Damn hair.
What is your biggest beauty secret?
I wish I could say I drink four litres of water a day, but I would be lying. When your mother tell you to stay out of the sun – listen to her. And there is a reason they say wash your face before you go to bed – if you are too tired, that is why the wetwipe was invented.
Best hair secret?
My favourite hair salon is Profile Beauty and they only use Bio-kinetic products. I do not use box colour on my hair at all and I love Le Belle tape-in hair extensions. I also drink Pregomeg – nope not expecting, but the vitamins in there are insane for your hair.
Best summer fashion tip?
Hair – natural looking hair, sunkissed colour and minimal styling. Clothes – very bold and bright colours as well as tops with frills, off the shoulder details and interesting patterns. Tassel earrings are another big fashion statement and slops in bold metalics are all the rage.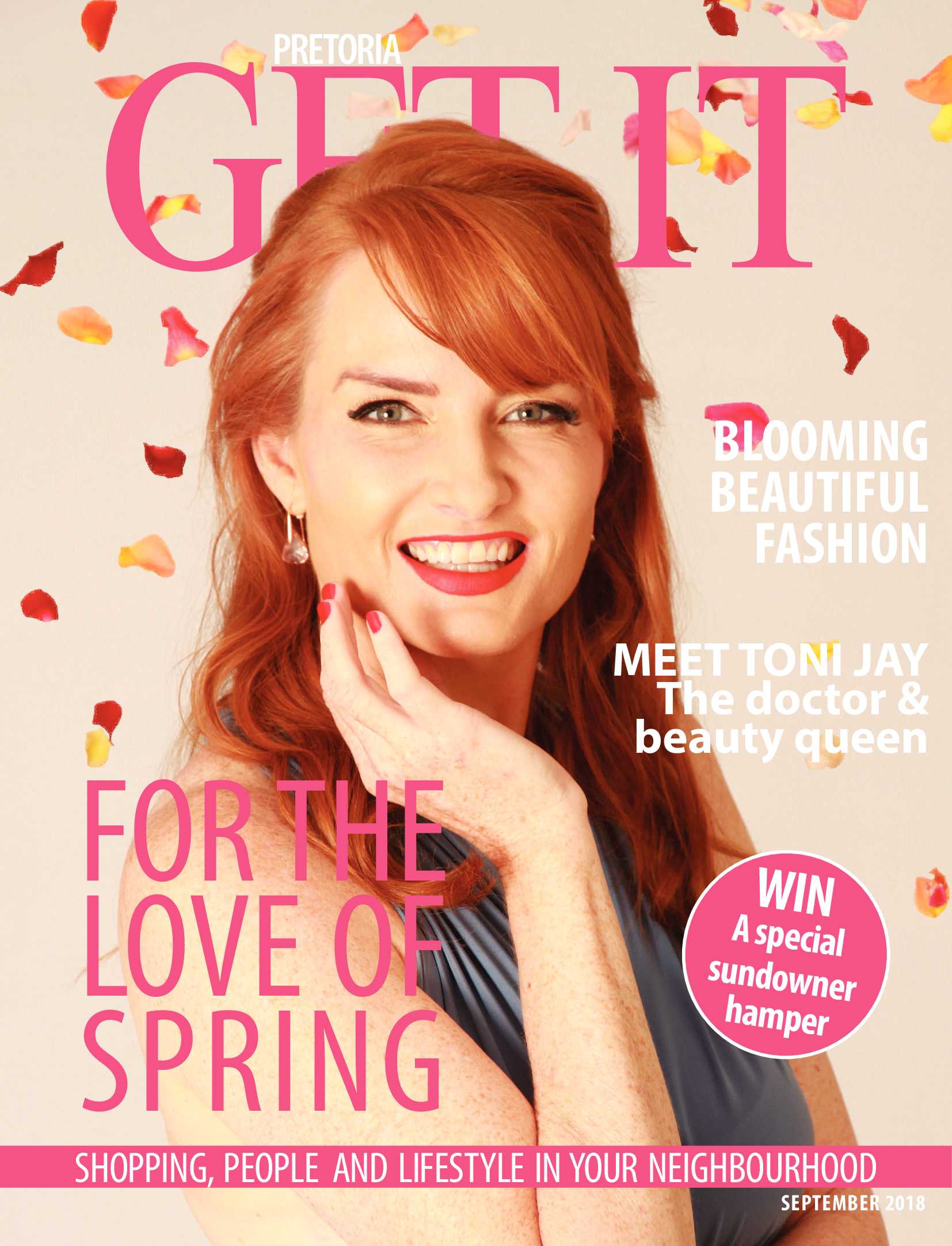 Spring Spoil (We're celebrating the arrival of spring with a sundowner picnic.)
is a national brand of premium free magazines available in centres across the country.
to see other Get It magazines in the network.