Top 14 things to do at Sun City
1. Play golf
With two world-class golf courses, Sun City is renowned for golf. Established in 1981, the over 7km, par-72 championship Gary Player Country Club golf course is one of the most difficult and demanding courses in Southern Africa. The course occupies a mountain valley and features huge flowery bunkers and massive greens, as well as an island green on the par-4 ninth, making for an exciting and challenging golfing experience. The Lost City Golf Course is one of the most unforgettable courses in South Africa. A desert course, the par-72 18-hole course covers more than 100ha with various themes, from desert to mountains and parkland. It incorporates 28 000m2 of water features, with perhaps its most famous feature being the water hazard on the 13th hole, which is home to Nile crocodiles.
2.Get to know SA's legends
The South African Hall of Fame is an interactive exhibition where young and old are able to celebrate the country's most memorable achievers in the fields of sport, arts and culture. Powered by Samsung and located at Sun City's newly upgraded entertainment and convention centre, Sun Central, you can test your skills on simulators and learn more about your heroes on touchscreens.
3. Explore the Maze
The largest permanent maze in the Southern Hemisphere, this stone and wood maze gives the illusion of an ancient archaeological discovery. Accessed via a 100m-long suspension bridge, it ends at the Maze Bar where you'll find ice-cold craft beers on tap.
4. Experience Zip 2000 …
The Zip 2000 is the original extreme zip slide. With an average speed of 120km/h over 2km and reaching speeds up to 160km/h, it is still one of the world's longest zip slides.
5. Spoil yourself at the gary player spa
The Gary Player Health Spa and beauty salon, run by Gatsby International Health Spas, is the perfect place to take a little time out. For those seeking a sense of rejuvenation after days spent in the sun, there is a range of healing and re-energising treatments. There's a small, well equipped gym for those who want to pump up their muscles … and the most fabulous mani and pedi section … lie back, relax, doze for an hour and wake up to a perfect 10. Highly recommended.
6. Fun and games for kids
At Waterworld and the Cabanas lawns, children can enjoy facilities such as supervised workshops at Kamp Kwena, Finders Keepers, Rock Venture Golf, Kazooma Raceway, Long John Silver Bumper Boats, a fully equipped children's playground, and the Stimela train that goes past the Animal World aviary and over a small lake where children can watch impala, ostrich, nyala and kudu.
7. Mini Golf
With so much on offer at Sun City, you might want to take a break from all the action and slow down with some relaxing mini golf. Sun City boasts an 18-hole mini golf course offering competitive sporting fun for friends and family. The beautiful scenery and rippling brooks create the wonderful backdrop for an afternoon of fun. The course is perfect for beginners, but also offers some challenging holes for more experienced golfers. Participants can enjoy the beautiful view of the Waterworld lake while negotiating the course. Sun City mini golf is the perfect way to unwind and have fun with the family.
8. Eat your heart out
With more than 30 restaurants, Sun City caters to all tastes and has something for everyone. While family restaurant brands are on offer, Sun City has now created several signature restaurants. Among the new or refurbished signature restaurants are the Bocado at the Cascades, which offers guests a beautiful setting to enjoy vibrant Mediterranean-inspired dishes; Legends at Soho, a trendy grill house that pays tribute to the icons who have graced Sun City since 1979; and The Brew Monkey at the Valley of Waves – a gastro pub with a decidedly rustic microbrewery feel with hand-picked craft beers and milkshakes.
9. Ride and slide
There are now seven thrilling slides to try at the Valley of Waves, with a ride for every comfort level, from an easygoing tubing experience to semi-submerged waterslides that spiral downhill. One of the latest additions, Ovango, is a breathtaking, 155m-long slide that takes you through a dark and twisted portion before you're surprised with the feeling of falling into the "boomerang" section.
Another new one is Noble's Descent, which offers the ultimate body slide adventure in a capsule. A 17m plummet, nearly straight down, sends you sliding at 64km/h before being swept upwards into a near-vertical loop. G-forces pin you slide up, over and then down before crashing into the splashdown lane. Other attractions at Valley of the Waves include the Roaring Lagoon – a 6 500sq m wave pool with hydraulic mechanisms that generate waves nearly 2m high – and the Lazy River that offers a gentle, non-stop tube ride around an island. There are also several walkways through tropical forests surrounding Valley of Waves where you can explore the Spider Web Sway Bridge, hidden cave waterfalls, rare plant varieties and more.
10. Segway Guided Tours
The Sun City complex is huge … and there's loads to see. The best way to explore? A Segway guided tour. Perfect for groups of friends and family, it's easy, fun and you get to explore the area. There's also an off-road tour along the Pilanesberg national park fence line (and you may just spot one of the Big 5). From 45 minutes to two hours …we loved it!
11. Go wild at Adrenalin Extreme
At the outdoor adventure hub, Adrenalin Extreme, you can go wild, delving into activities like drift trikes, hovercrafts, The Accelerator and quad 4×4 challenge. The Accelerator is a high impact activity similar to bungee jumping. The drift trikes are three-wheeled go-kart-like trikes powered by a small engine. Smooth PVC lining on the back wheels ensures a fast, heart-stopping drifting experience. On the hovercrafts, you get to navigate a fast track that allows you to experience the hovercraft's unique driving characteristics, while on the 4×4 quad circuit, you get to drive a quad bike on your own through a set course of 4×4-type challenges.
12. Party all night
Soho (formerly the Sun City Hotel) is Sun City's always on party zone. Encapsulating the essence of the renowned Soho destinations in London and New York known for their eclectic vibe and non-stop action, Soho boasts an exclusive, decidedly glamorous modern dance club, Encore, a vibrant bar and hot spot, Vibes, as well as new restaurants. With its glamorous interior, exquisite glass dance floor, VIP area, state of the art sound and superlative DJ line-up, Encore can rival the country's premier dance venues. This is where night becomes day in spectacular style.
13. Go on safari
Sun City is a five-minute drive from the game-rich and malaria-free Pilanesberg national park where you can spot the Big Five with Mankwe gametrackers or enjoy spectacular views of the reserve in hot air balloons. The Pilanesberg national park is a melting pot of topographies that include syenite koppies, forested ravines, bushveld and rolling grasslands and lightly wooded areas, all contained in the crater of an extinct volcano that covers 55 000ha.
14. Water sports galore
At Waterworld at the Cabanas you can try your hand at water sport activities such as parasailing (the most fun ever … and hugely recommended), waterskiing, jet skis, paddleboats, a wake snake, wake boarding and boat rides. Cruises around the lake are also offered daily. Waterworld now also sports the new Kazooma Raceway and Rock Venture Golf. Book before 10am for a 20 percent early bird special, and ask about the three-ride special.
For more information about Sun City and all the changes visit #NewSunCity, connect on Facebook (SunCitySA) or follow them on Twitter (SunCityResortSA) and Instagram (@SunCityResortSA)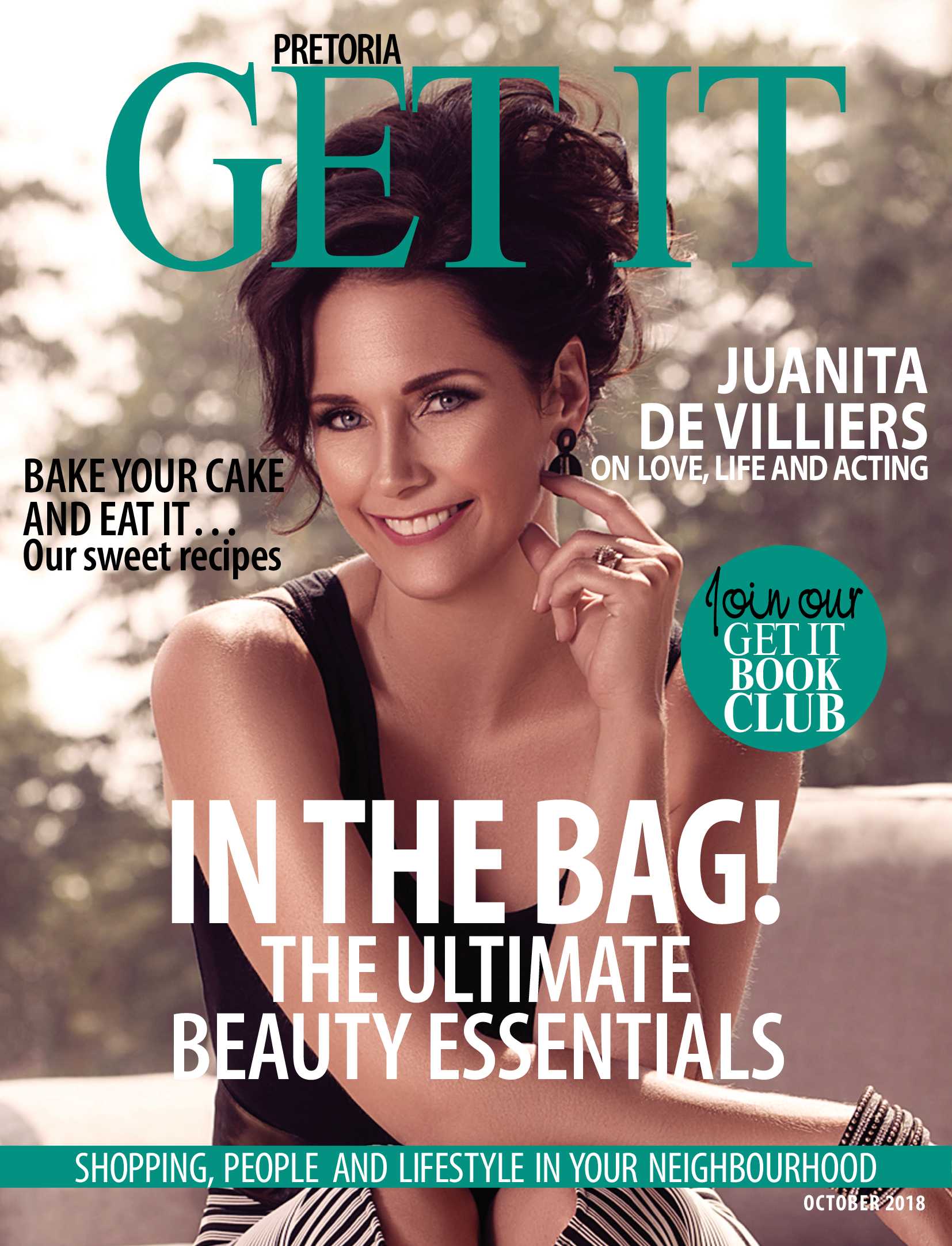 is a national brand of premium free magazines available in centres across the country.
to see other Get It magazines in the network.