Lending a helping hand
Jean Crossing celebrated their 2nd birthday in February 2017 by installing a community Wishing Wall in the Centre. Shoppers were able to share their wishes, hopes and dreams for 2017 for a chance of winning rewarding prizes.
There was an overwhelming response to the Wishing Wall as over 1 000 entries were received in the first week. It was clear from the responses what the real needs of the community were and the management of Jean Crossing, therefore, decided to expand the Wishing Wall concept into a CSI initiative, called Community Connect, during July and August 2017. And Jean Crossing is now inviting you to help make someone's wish come true.
All the wishes which were not rewarded during the 2nd Birthday celebration were entered into a lucky draw, and twelve of the wishes were randomly selected. These twelve wishes will be posted on the Jean Crossing competition page and linked to their website. Sponsors and community members are able to go through the list and decide which wish they would like to assist with by simply clicking on the wish and filling in a form. Jean Crossing will facilitate the process of wishes being granted.
Be someone's hero. Lend a helping hand to make the community's wishes come true! Join the Community Connect drive.
Twelve selected wishes even though there are many more we are trying to assist with:
Just a little extra to spend feeding my family. A voucher will be awesome. Age 41. 'I was diagnosed with immune deficiency last year and the medical costs have soared. As any mom, I just want the best for my boys and I want to support them as best I can. Being a single mom has its challenges and therefore I would be truly thankful for any assistance to make things a little easier.'GRANTED
To get a cleaning job. Age 57. I am 57 years old and a mother of four. It is my responsibility to take care of my children however it is currently very difficult as I do not have a job. I am a hard worker and would truly appreciate if someone can give me a chance.' CV on request.
Groceries for the last two weeks of the month or a voucher. To have a haircut or a meal for myself and my two kids. Age 38. 'I am a single mom of two and I wrote a wish that I thought would be realizable as they either solve a practical issue or provide an opportunity to treat my children in a way that I cannot do at this time. Here is to hoping that I can get a bit of relief and perhaps an evening to enjoy with my kids.'GRANTED
Groceries for my children. Age 49. 'I am a mother of three children however we are also raising my sister's son and my brother's children as he sadly passed away. There are a lot of dependents that need our help as I am the sole provider and the eldest sibling. I try assisting our friends & family where possible and therefore I have created a vegetable garden to share with all of the Helping others all the time sometimes gets difficult as there is no one to help me. I would like to continue being a feeder of the nation and would love some help with groceries for my children.'GRANTED
I wish for a week long break in the bush with my children. They have never been on holiday. Age 33. 'I am a single mom of two beautiful kids who is a true blessing in my life and brings me tons of joy. I mainly made this wish for my daughter who has a soft soul and an easily giving & sharing spirit. One of her biggest dreams is to see wild animals or being able to walk on the beach.'
I wish someone could pay for my brother's rehabilitation so he can walk again. Age 31. My brother was hit by a car and fractured his spine however he still has some function in his hands & feet and still has the hope of one day walking again.
I wish someone can help me fix my parents' house. Age 40. I am a mother of three and currently living in Centurion with my children. After my parents passed away I was responsible for taking care of my four siblings still living in my parents' house. It is very unsafe as there are currently no gate or wall surrounding them. It would be amazing if someone can help me build that wall.'
I wish Missing Children SA to receive a year's worth of stationery for their office. Age 36. 'Human trafficking is a reality in SA. MCSA is an NPO surviving on donations alone. About twice a year, with the help of my friends, I try to collect as much stationary as possible to donate to them. The volunteer's works 24 / 7 on the cases they have been assigned. This is a humble NPO fighting for a good cause, creating awareness and supporting the loved ones while a family member or child is missing. If more donations, whether airtime, stationary or funds can be generated, more volunteers could assist with the cases being opened on an hourly basis.'
I wish to get a job and a shopping voucher. Age 24. 'I graduated in 2014 and retrieved a National Diploma in Environmental Science. My biggest wish is to make a change in the environment by using the information I have obtained during my Tertiary studies. I wish to get a job or an internship opportunity in the Environmental industry. My second wish is a shopping voucher as I would love to be able to buy new clothes to ensure I look neat and presentable.'
I wish my sister's university fees can be paid or that she can have a little help to pay them. Age 27. 'All though my sister is younger than me, she is my hero, my most favourite friend and the person I look up to. It would mean the world to me if the burden of ongoing costs she faces could possibly be lightened. All though she gets up early and goes to bed in the wee hours of the morning to study, she still works odd weekends and every holiday to stay in shape and on top of this wonderful, ever changing profession and to pay her way forward. This is why I wish someone could bless her as she has blessed our little family's lives.'
Collect as many shoes and sanitary towels for their beloved school children. Age 24. 'My mother is a teacher and I got to see how people are suffering. I realized the major problem that our young generation is facing is the lack of school shoes & sanitary towels. We would love to collect as many as possible to donate to the schools.'
For assistance in getting my hearing back. Age 32. 'My dream would be to have a normal conversation with someone as I currently cannot hear even with assistance from a hearing aid. My parents are amazing
Step 1:
Visit our website – http://www.jean-crossing.co.za
Step 2:
Click on the Community Connect pop-up link
Step 3:
Select the wish you would like to assist with & fill in the form
Step 4:
An email will be sent to Jean Crossing and they will be in contact with you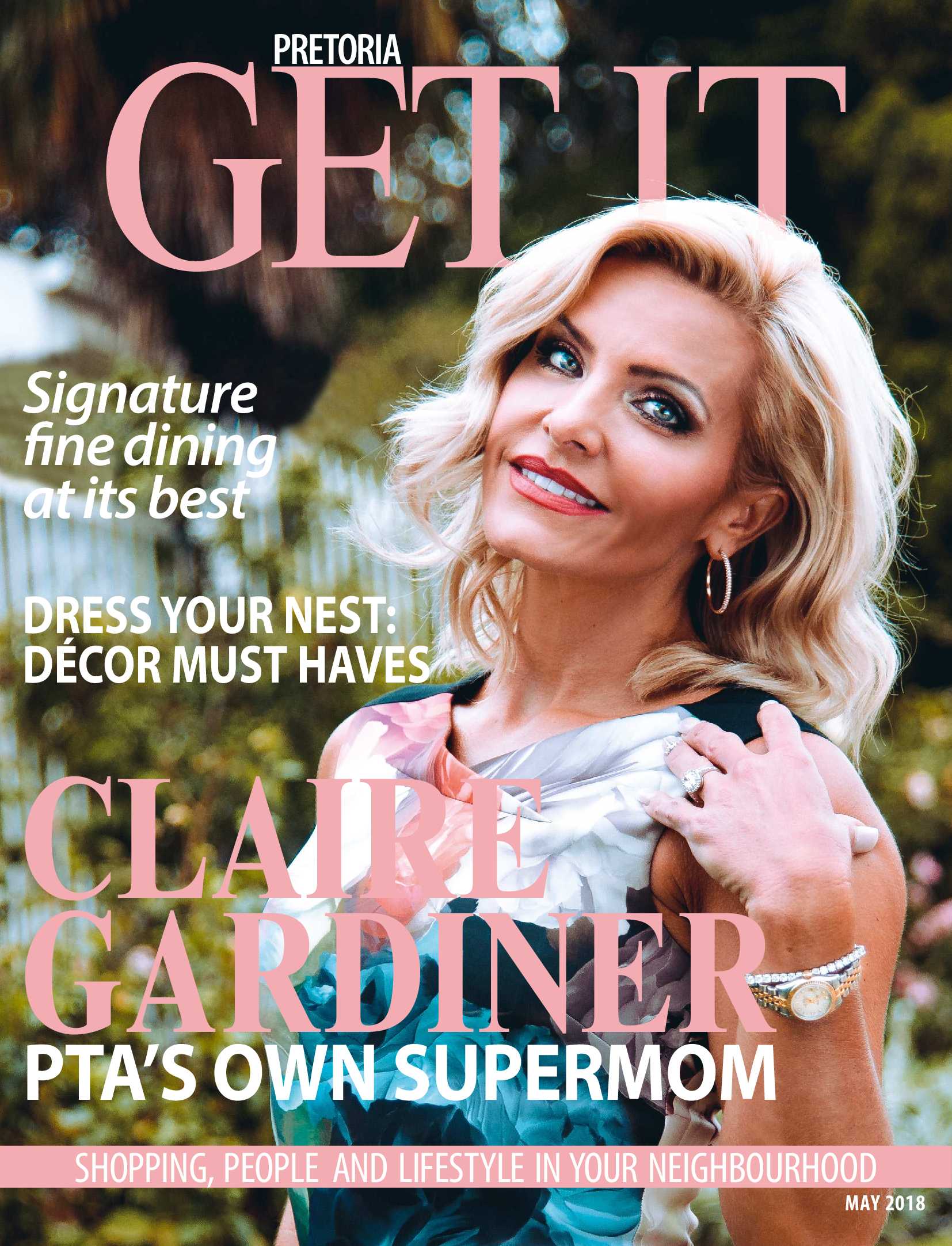 June Spoil 2018
is a national brand of premium free magazines available in centres across the country.
to see other Get It magazines in the network.