Catching up with Aubrey Poo
Aubrey Poo is a name synonymous with brilliant acting on television and on stage. We met him years ago on the SABC2 soapie, Muvhango, as Pelo Mohale. Since then he has gone on to tour the USA as the only African in an all-American cast for Dream Girls and even won a golden horn award.
We caught up with Aubrey to find out a little more about the colourful and charismatic man he is.
You grew up in both Ga-Rankuwa and Mabopane, tell us a bit more about your childhood:
Growing up as an only child, I had an excellent bond with my extended family – I regard my cousins as my brothers. My mother made sure that I had a comfortable and happy upbringing. Growing up in the township also enabled me to learn more about myself, the street and survival. I wouldn't change a single thing.
You attended school at Pro Arte, did you already know back then that acting was something you wanted to make a career out of?
I started off doing drama then I dabbled in ballet for a while. After my stint with ballet, I went back to drama and I just knew that it's what I was supposed to do.
One of you biggest roles was on Muvhango as Pelo Mohale, what did joining that big soapie do for your career at that time?
I launched my career and it taught me to invest in my character. To this day I'm thankful to Tony Kgoroge and Muvhango's producer, Duma Ka-Ndlovu.
What did you get up to after leaving Muvhango?
I went on to present All You Need Is Love and did some corporate theatre. In 2008 I decided to go back into the world of television.
You've played numerous characters during your career, which one has been your favourite thus far?
My current character, Pastor Gabriel. He's a very animated character so I'm always intrigued by his antics and shenanigans.
You currently play the role of Pastor Gabriel Mothusi, which is quite a colourful character, do you sometimes find it challenging?
It definitely challenges me to maintain the standard which I started the character off with. It's a joyful process and it affords me the opportunity to continuously reinvent myself.
Would you say that the character of Gabriel has helped you grow as an actor?
Yes! It's made me take note of certain things and it challenges me to maintain the standard which I started the character off with.
Are there any similarities between you and Gabriel? If so, what are they?
I'd say we're both colourful characters, that's about it.
How has it been working on Isidingo?
Total bliss, I'd always aspired to be part of the cast. I'm also required to bring my A-game on set all the time and I've been fortunate enough to have been afforded the freedom to express myself by the producers.
You emphasise that people coming into the industry shouldn't be side-tracked by the buzz that comes with being in the industry, how do you keep yourself grounded and focused on the craft?
By doing exactly that – focusing on the craft. The "fame" is a by-product of what I do, why should I let it get to me? I also avoid over-exposure, it dents a characters believability.
What are some of the challenges you've faced in the industry?
I've been blessed in my career, I haven't had many challenges. My career has been quite diverse – singing, television and theatre.
You've been in the industry for a while, would you say it's tough to stay relevant?
Keep socially conscious and reinvent yourself. Staying focused on the craft is also important – if you're in the industry to act, act and tell stories, that's it. Work is the only consistent thing in the industry.
I also pay attention to social media. It empowers and enables one to know their worth and give their opinions. I take a few lessons from it.
How do you deal with social media trolls?
I don't entertain them, I block people who have nothing good to say.
You've been awarded a golden horn for the best achievement by a lead actor, how did it feel to know that your hard work has been recognised?
Amazing! It's a peer review that many would like to receive.
You also sing, did you ever consider pursuing singing as a career instead of acting?
All the time actually. Singing requires a full-time commitment, but I haven't thrown the towel in – it's in the pipeline.
People don't really know much about you apart from what you put out there, is it a conscious decision that you've made?
Yes. I live my life in a way that I wouldn't mind people seeing me.
You've done some theatre work, tell us a bit more about that:
I've been in the industry for 15 years so I've acquired a lengthy and colourful resume. Theatre is my first love – I've travelled abroad as part of the Dream Girls musical as the only African in an all-American cast and I've been part of three stage productions.
Even though I'm on Isidingo, I insist on being on stage at least once a year. At the moment I'm on Marikana The Musical at the South African State Theatre.
If you had to choose between theatre, acting and singing, which one would it be?
All three – acting in theatre while singing. Kill three birds with one stone.
You were hijacked in Ga-Rankuwa, how did it feel to be violated in your own neighbourhood?
Awful! People who use alternative means to make a living, break your levels of trust. I don't know who to trust and how am I supposed to go home freely?
When you aren't on set shooting Isidingo, what are you doing?
I'm either chilling with my friends or with my daughter.
When the time comes, how would you like to be remembered?
I want people to be fair and honest, apart from that, I'll leave the world to write my obituary.
Did you know? Aubrey got the scar on the right side of his from an accident, when he was three years old.
You can catch Aubrey on stage at the South African State Theatre in Marikana The Musical and Monday to Friday on Isidingo on SABC 3.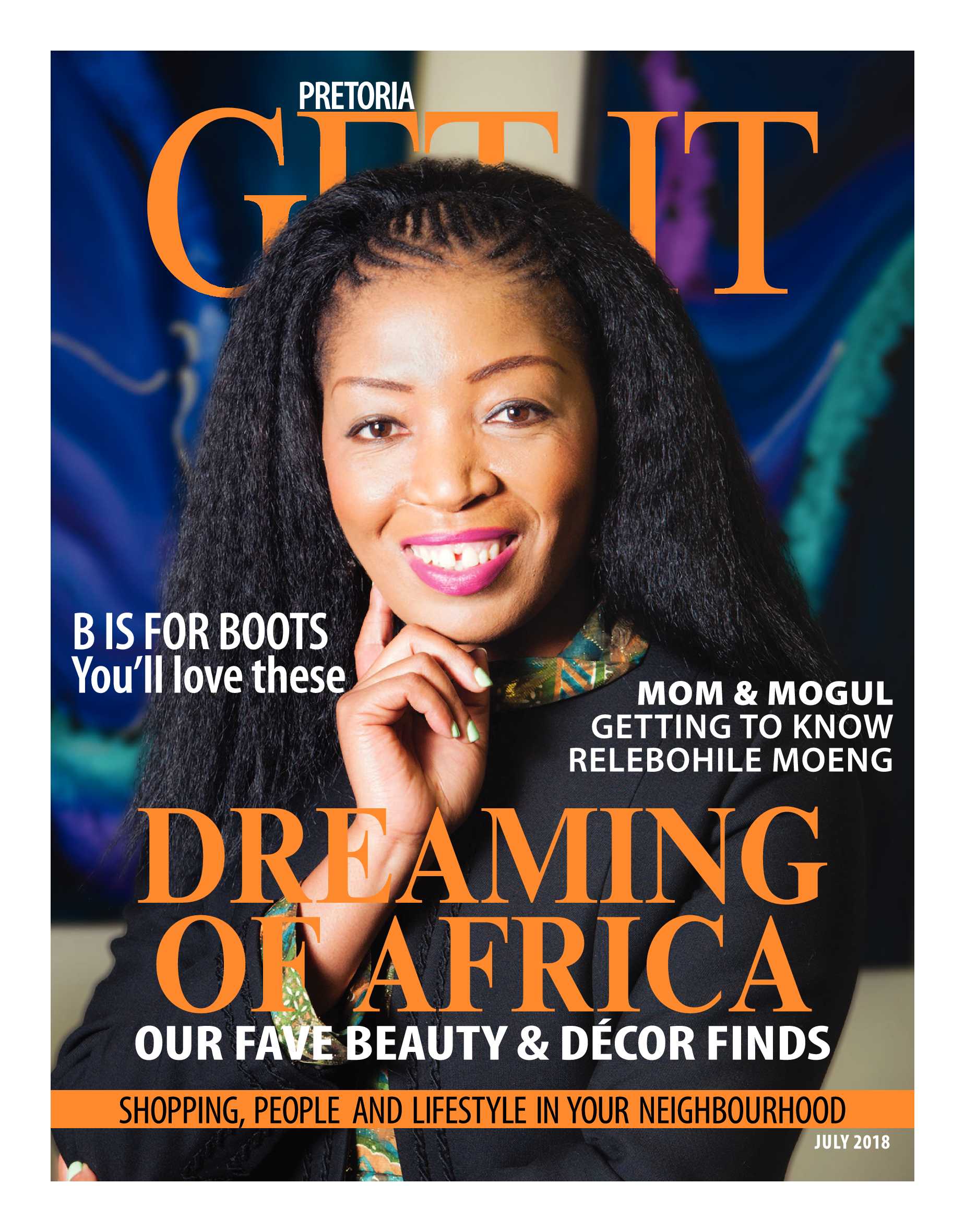 July Spoil
The warmest, most luxurious blankets imaginable.
is a national brand of premium free magazines available in centres across the country.
to see other Get It magazines in the network.