It's all about the Mamba
The members of Radio Kalahari Orkes are scattered across Pretoria and Johannesburg and after a five year silence they've finally released a brand new album.
They got their unique name from a fictitious radio station they started in the small town of Slangfontein and see themselves as a real-life band that plays the music you hear on the station. Cool right!
"The band first got together when we had to record a DVD for the song The Crying Shame and fans loved it so much we decided to work on an entire album. I guess it was kind of like a potato that slowly but surely made its way to the surface," says Ian, a singer and actor.
The band has changed a lot over the years but the current Radio Kalahari Orkes (RKO) consists of Frizo Woudstra (guitar, lead and rhythm), Wynand Davel (violin), Bradley Cooper (drums), Alicia van Dyk (accordion, recorder and vocals), Barry Steenkamp (base guitar) and Ian Roberts (lead singer).
After five years, the group finally released their brand new album, Mamba and fans are ecstatic. "We were recording the song Ja Jy in our studio in Slangfontein and were playing around with a few names for the album. We actually had the name of some South African politician in mind but just then this big mamba came through the glassless window and looked straight at us. It got dead quiet in the studio and the voice of the farmer who was on the line with his request echoed through the hanging headphones. After what felt like an hour, the mamba sailed over Bradley's old tekkies and disappeared. We just knew there and then, we needed to call the album Mamba," Ian explains.
They released the album independently and Ian says it took some time to raise the necessary money to do so. He describes the album as a mix between some of RKO's old material mixed in with a lot of new material and says it took an entire year to put together.
Rian Malan, Dan Roberts and Ian were responsible for writing most of the material on the album and they even roped in the help of Jaco van der Merwe from Bittereinder. "The inspiration comes from a place that no one can really understand. It's a gift. The muse only comes to the writer when she wants to and we are always very grateful when she arrives," Ian says.
With the band not all being together all the time it can get hard to practice together. "We practice where and whenever we can, especially when we're on tour," Ian says.
We had to ask: doesn't it get difficult when so many personalities and people have to work together so closely? "Look, musicians always have to find a way to make themselves heard. With RKO it's the same. But one thing is certain – we stand together on stage. One for all. All for one."
There is only one lady in the group. "Alicia is the most decent of all of us, except when it comes to politics. She's the editor of the Radio Kalahari news desk. She is highly qualified and got training from Rian Cruywagen. She recently showed her stealth by declaring live on air that sport and politics do not mix. "Sport and politics are like paraffin and water. They don't mix. Shame," she said.
Their brand new music video for the hit Bobbejaanvlei is also in circulation and was shot based on the paintings by the American artist Norman Rockwell. Look out for Ian's three Bellini guitars that make their debut in the video. The unique guitars were made in Pinetown, Natal during the 60s and 70s. "They are made from plywood and have a very interesting sound. They are unique and form a very important part of the history of music in South Africa. I installed pickups and now they are super-duper pudding and pie," Ian says.
For now Radio Kalahari Orkes spend about three months of the year on the road touring for their new album. We can't wait to see them live in action in the capital soon.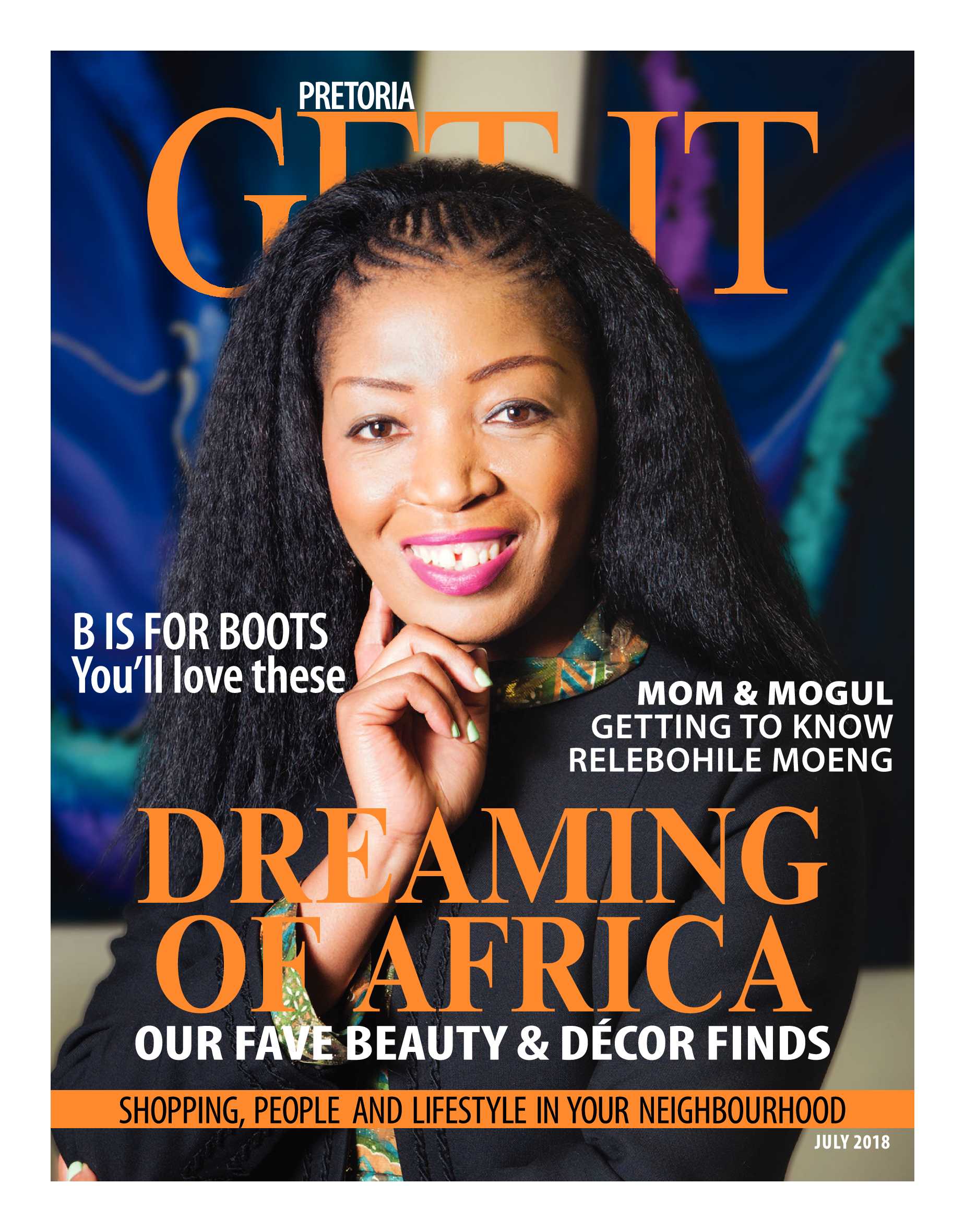 July Spoil
The warmest, most luxurious blankets imaginable.
is a national brand of premium free magazines available in centres across the country.
to see other Get It magazines in the network.