A driving force
The organisation that is National Tekkie Tax Day needs no introduction. This national fundraising project has since it's inception in 2013 taken South Africa by storm. Boasting as much as 12 National Welfare organisations under its slogan, there is so much more to the campaign than simply raising money.
As the founder of the organisation Annelise de Jager puts it, it's all about empowerment.
"We believe that a welfare organisation should be run like a business and everything that we do in the campaign aims to achieve this goal. The result is not only a successful fundraising campaign but we raise the bar in terms of how non-profit organisations are run in the country," Annalise explains.
In 2016 the campaign raised a whopping R8.4 million and the overall total over the past four years is R22 million. Pretty impressive if we say so ourselves.
Last year's campaign exceeded all expectations with a total of 276 NGOs and companies as well as the public at large getting involved. Nearly 1 million people participated.
This year's aim is double digits and the hope is that as many Pretorians as possible doll up their tekkies with the Tekkie Tax colourful laces. As the slogan suggests: "Bead-Up-Your-Step".
When purchasing your stickers, shoelaces or T-shirt, you get to decide where your money goes. You can choose between five different sectors of welfare organisations including animals, bring hope (i.e. the elderly, HIV/AIDS patients, the terminally ill, etc.), children, disability or education.
The 12 National Welfare organisations involved represent more than 1 000 local welfare organisations across the country, so you can bet that your money will most definitely go to the right place.
At the helm of the organisation sit Annelise de Jager and Germa Hattingh. Two strong women with never-say-die attitudes. They are always busy with the next project and wear many hats. We sat down with them to find out more about them and their passion for the organisation.
Annelise De Jager

As the founder of Tekkie Tax, Annelise is a business woman through and through. At the age of 55 there is still no stopping her and she actively works as the patron of the campaign. Her hands move as she talks and her enthusiasm for the project is contagious. Having worked in the social welfare sector for most of her life Annelise knows a thing or two about understanding the needs of the less fortunate and helping others.
But it's not all work and no play for this avid cat lover. "I am also an avid BMW F800 ST motor bike rider and if I'm not on the road I love to cook for my family and friends," Annelise adds. Oh, and then there is her love for taking photographs. She is so passionate about photography that she was the chairperson for the MFFC Camera Club in Pretoria for two years. Annelise also completed her honors at the Photographic Society of SA and is an accredited photographic judge.
For now the focus however falls on Tekkie Tax. "After … years, Tekkie Tax is now firmly on the South African calendar. It is a campaign where good governance is in place and each cent donated can be accounted for. This is the way that fundraising should be done: adding value to the lives of people and animals while having loads of fun!" Annelise says.
Germa Hattingh


Known as the captain of the ship, Germa Hattingh joined the Tekkie Tax team in 2016 as National Campaign Manager. Before joining the dynamic team, Germa was Executive Director of Imisebeyelanga Services (Early Childhood Development) which was part of Tekkie Tax since the inception in 2013. She became a Board of Advisors' member in 2014 and is still serving on the Board, now wearing her Tekkie Tax hat.
Friends and colleagues and attest, this feisty blonde is a real energiser bunny, always running around and busy with the next project. She is passionate, a mother. And few people know this, but Germa was is actually a professional nurse by qualification. "I specialise in trauma as well as Aviation Health," Germa explains.
And just like Annelise, Germa also has a passion for photography.
"I think the most important thing I want you to know about me, is that I have a heart for people and I have a heart for NGO's. The battle for the survival of NGOs is fierce out there. And that is why I grabbed the opportunity when Tekkie Tax approached me to become involved
Through this amazing campaign, I can be part of a team that has a much bigger footprint when it comes to helping NGOs," Germa explains.
She is always on the run but when she gets the odd chance to relax, Germa enjoys music. In fact, she can play a total of nine different musical instruments, and with no formal training at that.
Get ready for Tekkie Tax 2017:
When?
Friday, 26 May 2017
Where?
Anywhere! In your own office, house and company. It does not matter if there are 2 people or 2 000, any place where you can wear your Tekkies . . . even when you are on your own!!
How does it work?
Choose your sticker, decide which one or more lies closest to your heart and obtain a sticker which represents that group. You can also get a pair of our funky and fabulous Tekkie Tax shoelaces and T-shirt for you and your kids and wear your Tekkies on Friday, 26 May.
How much does it cost?
R10 if you only want a sticker
R35 for your shoelaces, tags and a sticker.
T-shirts are also available at R95 for adults and R75 for children
Stickers and Tekkie Tag shoelaces are for sale at any Clicks, Toys R Us or participating non-profit organisation in SA. T-shirts can be obtained from Tekkie Tax Head Office.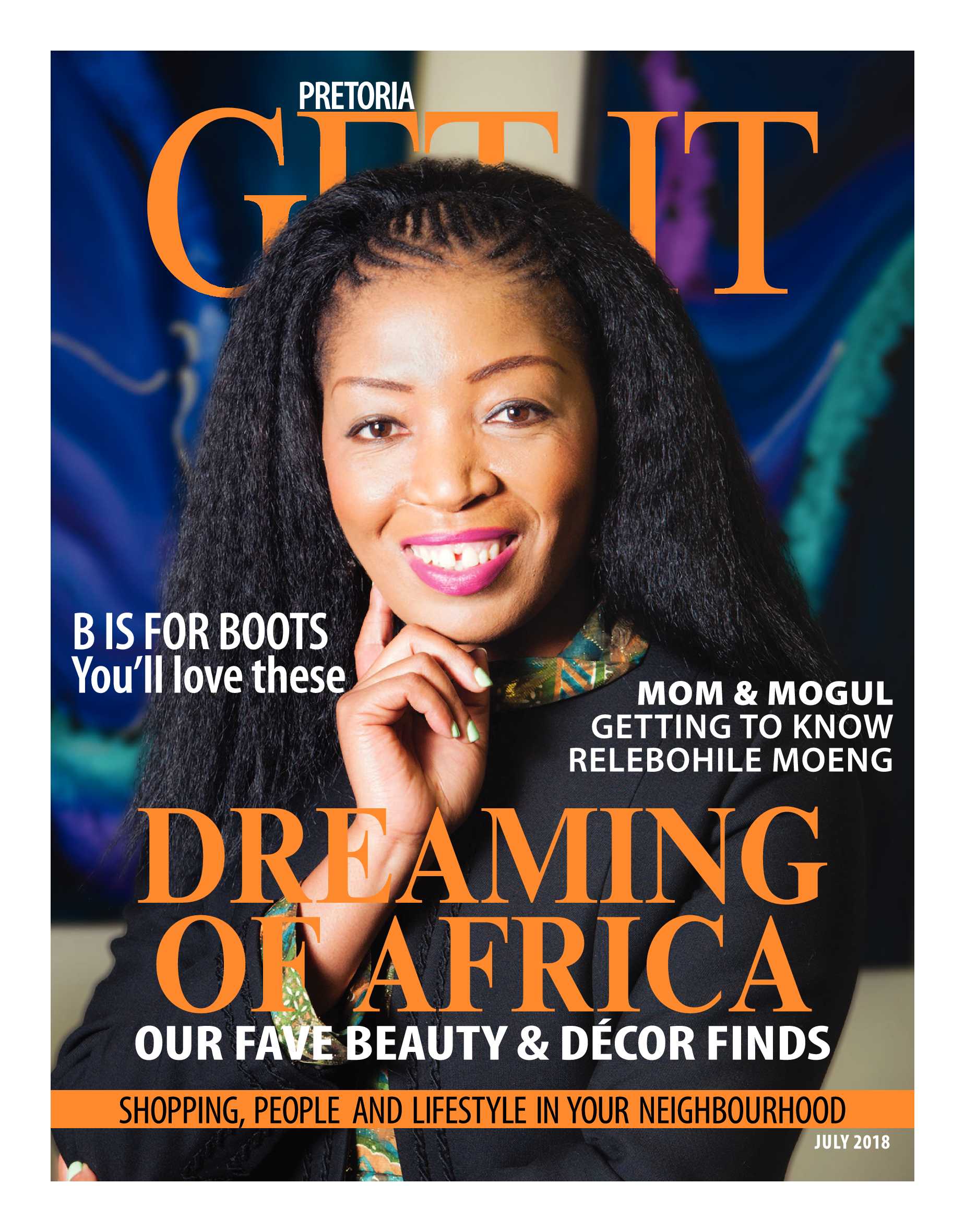 July Spoil
The warmest, most luxurious blankets imaginable.
is a national brand of premium free magazines available in centres across the country.
to see other Get It magazines in the network.