From modelling to motocross
Her eyes sparkle when she talks about her two passions: modelling and motocross. Yes, motocross. The gorgeous girl with the blonde hair and killer smile is as comfortable on the back of her KTM 350 2017 motorcycle as she is in front of the camera.
Dayna Nienaber is making a name for herself as a professional model and has appeared in advertising campaigns for Nike, walked the runway for SA Fashion week and was chosen as a semi-finalist in Miss SA 2016. It is hard to believe that most weekends you will find her competing against the best motocross riders in the country on the back of her motorcycle, or Storm Trooper as she calls it.
"At first glance no one expects me to participate in motorsport, or rather they don't expect me to be very good – just because I'm a girl," says the 20-year-old blonde beauty as we sit down at a local coffee shop for a quick coffee.
It's hard to imagine this dainty girl riding a big motorcycle through mudslides and obstacles, but she has the accolades and scars to prove it – she shyly opens her hands to reveal the calluses on her palms.
In her last race, OR2 ProAm, she competed in the men's division and came second, proving she can compete against the best of the best.
"When I'm on the bike I hate every moment of it. It's dusty and painful. But it's also exhilarating and a challenge to keep pushing. One mistake and you could be dead – I've never felt so alive than on the back of my bike. I love the sport and the joy it's brought me and others. Girls see me and know they can also do it – if I can they can," she says.
So how did Dayna's motocross career start?
Dayna's father, Anton, has been riding all his life and she grew up with motorcycles. "I was about 13 when I first accompanied him to a race. I saw girls on motorcycles and something just happened inside of me," she explains.
Dayna told her parents she wanted to start riding, and at first they though it was just a passing phase.
Little did they know their little girl was destined for great things. When she was 16, Dayna started working as a part-time mechanic at Adventure MX to support her racing career. "My dad bought me my first bike but race entries, maintenance and gear are expensive," she explains.
After a year of building up her confidence Dayna entered her very first race. She was one of 27 women and had to complete a tough 280km course.
"Because it was my very first race I didn't even expect to finish but after three gruelling hours and a torn shoulder muscle I finished fourth," she says proudly.
Shortly after completing her first race she was approached by her first sponsor.
The family says they couldn't be prouder of Dayna who in her first year of riding finshed second in the ladies class. "It has definitely become a family sport and my mum, dad and sister Elisha also help out as my pit crew."
Dayna's career as a professional rider almost came to an end when she drove into a road sign in 2015 while testing out her new motorcycle.
"I had just gotten my new motorcycle and was playing around with it on a friend's farm when the accident happened. I came around the corner with speed and I suddenly saw the sign in front of me. My helmet broke in four places and I was in ICU for two days with a concussion. Miraculously, I sustained no other injuries but I refused to touch my bike at first."
Eight weeks later, after being cleared by her doctor, the urge to ride was too strong and Dayna was back at it, conquering her fear and kicking dirt in other riders' eyes.
"People don't always understand my love for motocross, but I'm still a girl. The fact that you ride a motorcycle does not make you lose your girly side," she says, showing off her manicure. "My dream is to become a motivational speaker and I believe that I am on the right track by competing in motocross and doing modelling."
Whether on her bike or on the runway, Dayna shows that she can really do it all. But don't think her modelling career came easy. "Because I have to be so fit I've lost a lot of jobs because of my appearance. At one casting I was told I was too muscular and I should stop whatever sport I am competing in." As part of her training Dayna has to follow a rigorous exercise programme.
Before sunrise she runs 5km and then heads to work. After work, she spends two hours at Base Fit, a fitness centre that focuses on bike riders and their performance, and before dinner she runs 10km. It's a tough industry but Dayna is proving herself race after race.
She loves being a girl; mascara and lipstick are at the top of her list come race day. She just also likes testing herself against the guys. Girl power!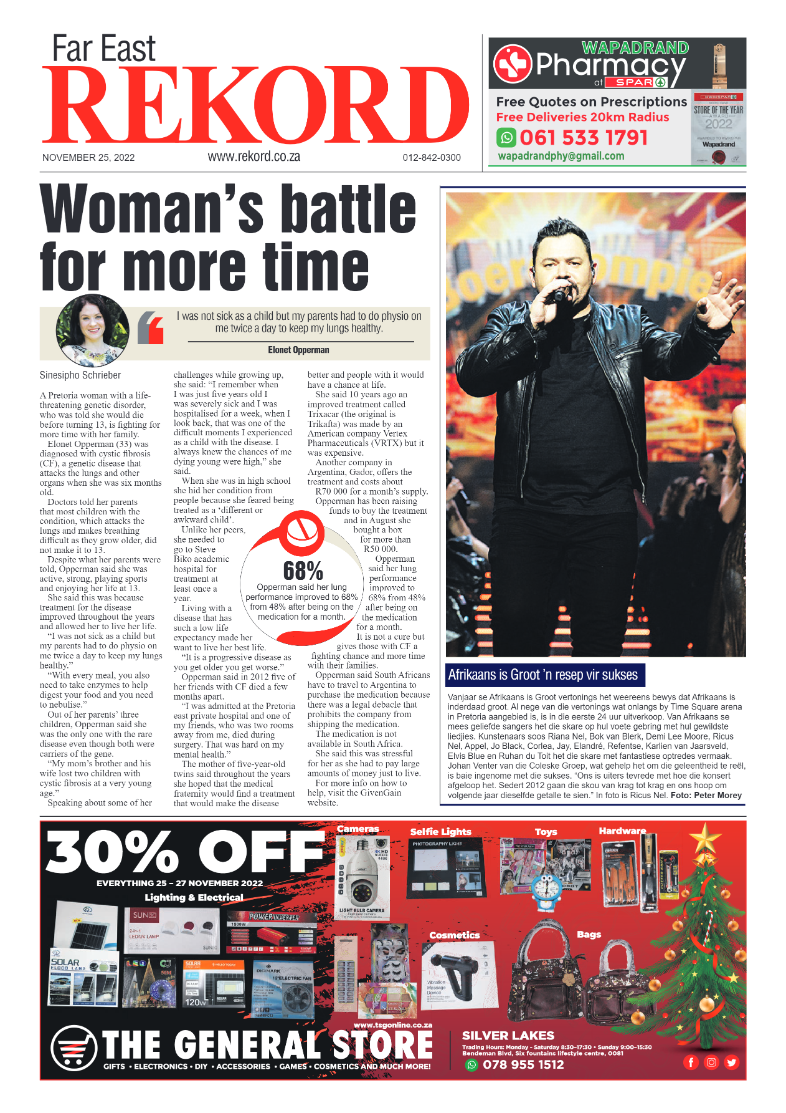 WIN: A R5 000 Voucher for treatments of your choice.
is a national brand of premium free magazines available in centres across the country.
to see other Get It magazines in the network.